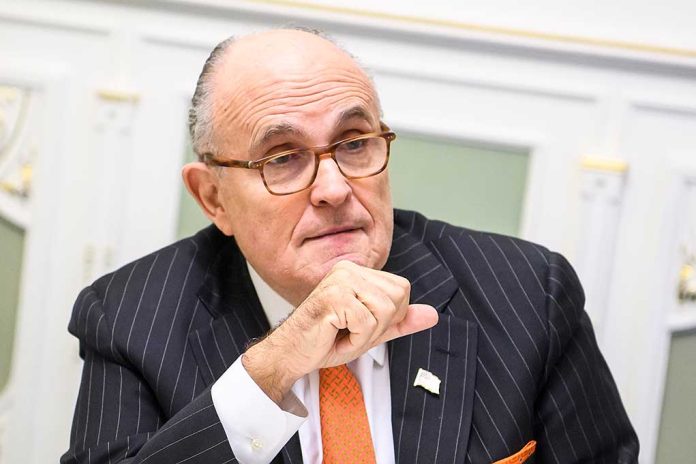 (RepublicanReport.org) – Earlier this year, the FBI sent shockwaves through the political world when agents raided Rudy Giuliani's home and office in New York City. More recently, the former lawyer had his license revoked in NY state and the District of Columbia. Furthermore, a federal criminal investigation seeking to unearth evidence that Giuliani engaged in illegal dealings in Ukraine while working for former President Donald Trump is also underway.
Specifically, agents seek info on the lawyer's actions while he was pushing for a probe into Hunter Biden's foreign activities.
Giuliani maintains he's an innocent man who's the target of a Democrat-led political attack. Speaking to NBC New York on Friday, July 30, he asserted he had "committed no crime," saying that anyone who thought otherwise was "probably really stupid." He also highlighted the fact that federal investigators were unwilling to examine evidence of crimes allegedly committed by Hunter Biden.
I stand with @RudyGiuliani. What is happening to him is evil. He is a great patriot and the entire country needs to rally around him against these political thugs who are attempting to destroy a good man's reputation. #StandWithRudy https://t.co/fXCGImAcfL

— Wendy Rogers (@WendyRogersAZ) July 8, 2021
Giuliani then highlighted how unfairly he was being treated compared to New York's Democrat Governor Andrew Cuomo. The politician has been accused of sexual misconduct by many women. Additionally, his administration is currently under investigation for various aspects of its policy regarding the management of COVID-19 in nursing homes. Yet, it's Giuliani who must suffer public humiliation at the hands of the Justice Department and FBI.
It's difficult to determine exactly what's happening with Guiliani's ongoing criminal investigation. However, some feel justified in their suspicion about the FBI's motives. Could this be just another case of manipulation at the hands of Democratic Party leaders?
Copyright 2021, RepublicanReport.org