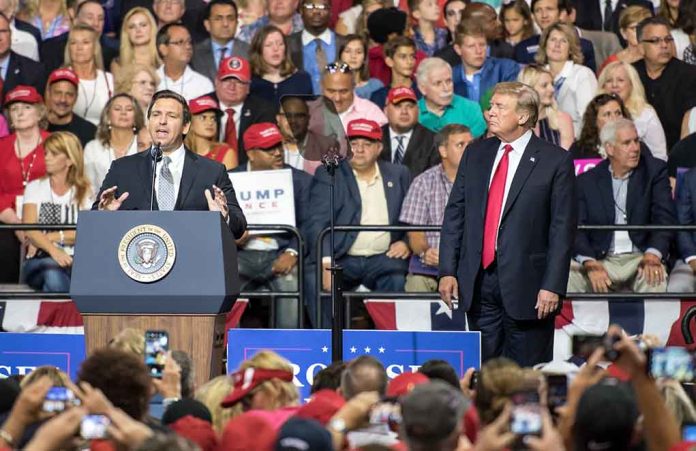 (RepublicanReport.org) – Florida Governor Ron DeSantis' (R) new book, "The Courage to Be Free," is set for release on February 28. Days before it was available to the public, however, The Guardian was granted a preview of the state leader's publication, in which there were some references to former President Donald Trump. Although the pair may soon spar for a spot on the Republican ticket for a chance at the Oval Office in 2024, DeSantis' words were nothing but positive.
On February 22, the news outlet reported the Florida governor praised the former US leader for helping him win the governorship in The Sunshine State. DeSantis also said Trump brought a "unique star power" to the 2016 presidential race. He said as a child, if someone had asked him and his friends to name a rich person, the answer would have likely been Donald Trump. The Florida leader hailed the former president for transforming the Republican party.
DeSantis writes in book he knew Trump endorsement would "enhance my name recognition" https://t.co/NlBxY4Rmq0 pic.twitter.com/ynHxZHCbC5

— The Hill (@thehill) February 23, 2023
Although DeSantis seemed extremely complimentary in his book, the niceties between the two powerhouses might not last for long. Many expect the governor to announce his campaign for 2024, which would put him head-to-head with the very man whose endorsement helped him land the job as leader of Florida. It seems Trump may be getting a head start on the mudslinging, but so far, DeSantis hasn't taken the bait. Recently, the former commander-in-chief posted on his social media network that people were fleeing to Florida and out of New York because of taxes and crime, but not because of the governor. He then referred to the state leader as "Ron DeSanctus" and "Governor DeSanctimonious." It wasn't the first time.
The only question left is: If DeSantis decides to throw his hat in the 2024 race, will he fire back at his former supporter to win the nomination?
Copyright 2023, RepublicanReport.org