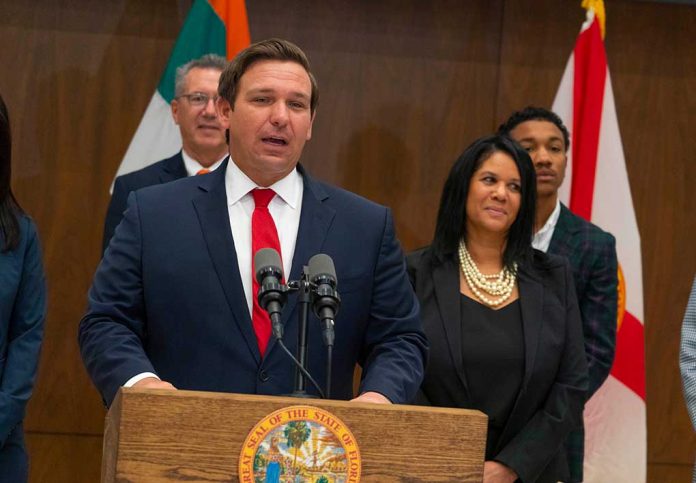 (RepublicanReport.org) – In last year's midterm elections, Florida Governor Ron DeSantis (R) yet again cemented his position as one of the most important figures in the Republican Party. He defeated Democratic challenger Charlie Crist by almost 20 points, having raised far more campaign money than the Democrat and led comfortably in the polls throughout the race. DeSantis was recently sworn in as governor for his second term, and a lot of people are talking about the Bible he used during the ceremony.
What Was Special About Ron DeSantis' Inauguration?
The Bible of the Revolution, printed in 1782 and endorsed by the Founding Fathers at the time, was the copy DeSantis used for his swearing-in. He received the copy of the book on loan from conservative commentator Glenn Beck, who owns it alongside a large number of consequential American artifacts from around that time.
In recent months, Gov. DeSantis has been riding a wave of popularity. Many Republicans now view him as the frontrunner for the Republican Party's presidential nomination in 2024, especially given the various scandals currently affecting former President Donald Trump.
The Free State of Florida: Governor DeSantis Inauguration 2023 https://t.co/wuVXdA7OSt

— Ron DeSantis (@GovRonDeSantis) January 3, 2023
The speech DeSantis made to mark his second inauguration touched on many of the themes that have catapulted him to national recognition since he first became governor. He referred to the importance of law and order in society in the context of the increasing levels of violent crime plaguing many major American cities. He also took aim at woke culture, committing to continue his fight against radical Leftist ideals in classrooms at every level of education. He stated "Florida is where woke goes to die."
Some commentators have suggested DeSantis deliberately created a presidential air with his inauguration speech. He focused on issues relevant to the entire nation, rather than just the state of Florida. Analysts also pointed out his use of the Bible of the Revolution was likely appealing to Conservatives right across the nation.
DeSantis has so far dodged all direct public questions about his potential ambition to run for the White House.
What About Donald Trump?
Former President Trump's campaign for 2024 has definitely gotten off to a rockier start than the Florida governor's. Analysts were quick to point out he was very quiet after the November announcement that he was running again. His subsequent appearances and statements have largely failed to excite as well.
Do you think Ron DeSantis is the right pick for the Republican Party's presidential pick in 2024? What impact do you think public appearances like his recent swearing-in will have?
Copyright 2023, RepublicanReport.org