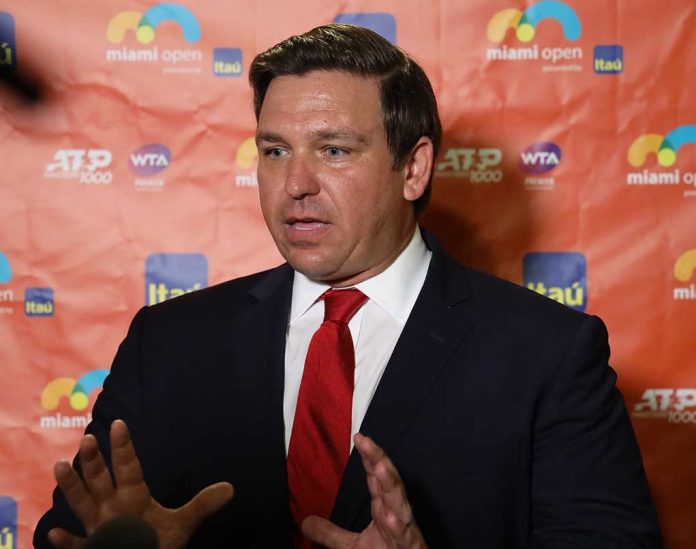 (RepublicanReport.org) – Florida Governor Ron DeSantis (R) hasn't announced he's running for president in 2024. However, many Americans see him as the biggest contender against former President Donald Trump in the GOP primary, which is expected to be one of the most heated cycles ever. The Florida governor recently stoked the flames of an already hot topic when he told people to "stay tuned" in regard to the upcoming presidential election.
Gov. Ron DeSantis Unloads on Trump, Says to 'Stay Tuned' for 2024 Decision. https://t.co/okBCTrjtNo pic.twitter.com/uFfncDTcYE

— NEWSMAX (@NEWSMAX) March 22, 2023
Piers Morgan, who wrote a piece in The Sun recapping the meeting, interviewed DeSantis for his show "Piers Morgan Uncensored" on Fox Nation. During the discussion, the two men allegedly talked about several things, but the biggest topic was the former president and his administration.
Morgan mentioned that DeSantis has "taken the gloves off" as he unleashed a "series of jabs" at Trump. The Florida governor reportedly criticized the former president, who was once his friend, for his "chaotic leadership style," the way he handled the last year of his presidency, keeping Dr. Anthony Fauci on board, and his "character failings."
DeSantis explained that Trump was self-obsessed during his time in the White House, mentioning that, in contrast, he brings people into the government that share a common agenda with their constituents. The Florida governor claimed that if "you bring your own agenda in, you're gone." DeSantis doesn't want to have drama, he just wants to put "points on the board."
The Florida Governor has remained silent as the former president has unleashed an all-out assault on the man many see as his main rival going into the primary election. However, that changed when DeSantis took a shot at Trump, mentioning the possible indictment he faces over allegedly paying off adult film actress Stormy Daniels to keep her quiet.
The former president, who has happily used DeSantis as a punching bag, wasn't happy about the sudden counterattack. Trump took to his social media platform, Truth Social, to defend himself against the Florida Governor.
DeSantis has yet to make his intentions for 2024 known, but many expect he will declare his candidacy. The governor has urged his followers to "stay tuned" regarding his potential 2024 presidential bid. DeSantis asserted he had "what it takes to be president," adding he would be able to defeat the incumbent President Joe Biden. His entrance into the race would certainly shake up an already brutal GOP primary.
Copyright 2023, RepublicanReport.org