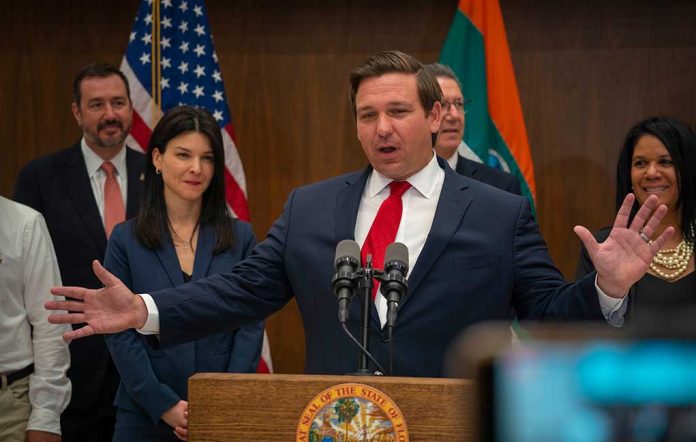 Ron DeSantis' New Video Ad Is Absolute Perfection
(RepublicanReport.org) – Florida Governor Ron DeSantis (R) is more than just a rising star in the Republican party. He's on a short list of likely leaders. After taking the Sunshine State's highest office by a razor-thin margin in 2018, polling suggests a convincing win against Democrat challenger Charlie Christ on Tuesday. The governor's popularity is high enough that GOP candidates in other states look to him for endorsements and support. His latest ad, stumping for Senator Mike Lee (R-UT), is nothing short of a masterpiece.
A National Star
The Governor's recent immigration moves — the infamous plane ride to Martha's Vineyard — combined with the leadership displayed as he navigated his state through an unprecedented natural disaster, gave Americans a good look at both DeSantis' political prowess and his humanity.
During the latest campaign stop, Governor DeSantis worked with the Club for Growth Action political committee, which spent about $8 million shoring up Senator Lee's spot. The committee had a falling out with former President Donald Trump and asked DeSantis to fill in for the runup to the election. Utah isn't the only state looking for the power of DeSantis' name recognition. He recently left New York after a stop for Rep Lee Zeldin, the House Republican looking to unseat Democratic Governor Kathy Hochul.
Florida's chief executive is a popular guy with a recognizable name and face. Along with the recent stops, he also either campaigned for or endorsed GOP allies in Kansas, Oklahoma, Wisconsin, Pennsylvania, Ohio, and Arizona.
A Split With Trump?
Late last month, DeSantis recorded a robocall for Joe O'Dea, the Colorado Republican looking to take out incumbent Democrat Senator Michael Bennet. The call, which was fairly typical campaigning, drew the ire of the former president, who doesn't get along with Mr. O'Dea. Trump took to his social media platform, Truth Social, and let DeSantis know that he would regret his betrayal.
The latest video supporting Senator Lee adds Club for Growth Action to the list of DeSantis allies with him in spite of the Club's relationship with Trump.
The governor may not need to worry about losing lock-step with Trump. He holds a higher favorability rating in one very important category: the future. Of Republicans polled, 44% want to see DeSantis heavily involved with the party going forward, as opposed to 34% for Trump.
All of the posturings may be moot, as Governor DeSantis hasn't declared anything for 2024. Once a new Congress takes over, regardless of what party has control, the political landscape for the next two years may become more clear. Until then, it seems DeSantis will continue to use his political capital to help others in his party while building a strong public image.
Copyright 2022, RepublicanReport.org