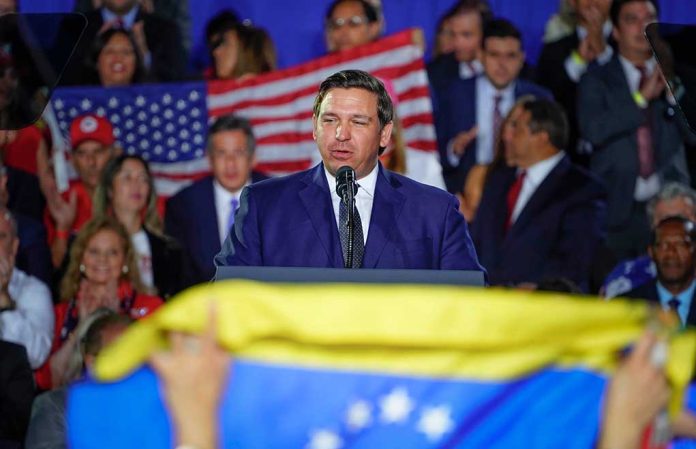 Ron DeSantis Has Huge Support Among Hispanics
(RepublicanReport.org) – Florida Governor Ron DeSantis (R) has cemented his place as one of the highest-profile Republicans in the country over the last few years. He's currently fighting Democratic challenger Charlie Crist in an election battle for his seat, and polls suggest he has a commanding lead. A recent voter survey indicated this advantage is very strong within the Hispanic community.
According to the Telemundo/LX News poll, just 44% of Hispanic voters intend to vote for Crist, compared to 51% who are backing DeSantis. This marks a reversal of voting by the community in 2018, when Democrat Andrew Gillum claimed 54% of the Hispanic vote compared to the 44% that went to DeSantis.
🚨@RonDeSantisFL leads Democratic challenger Charlie Crist 51%-44% among Hispanics. 🚨https://t.co/loZyO188IM

— RNC Latinos (@RNCLatinos) October 24, 2022
There was more good news for the incumbent governor when it came to his performance on specific issues. In a finding that may surprise some analysts, the poll noted 50% of Hispanic voters approve of DeSantis' decision to fly Venezuelan migrants from Texas to Martha's Vineyard, Massachusetts, while 43% disapproved of the move. This result mirrors the finding of a nationwide Politico/Morning Consult study where 41% of Hispanic voters believe Republican governors' transportation of illegal immigrants elsewhere in the country is "appropriate," compared to 35% who believe it's "inappropriate."
Do you think this poll's findings provide an accurate reflection of what will happen on November 8?
Copyright 2022, RepublicanReport.org