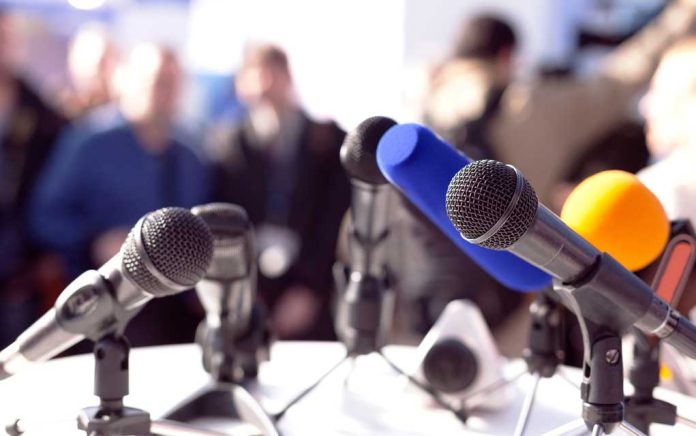 (RepublicanReport.org) – Florida Governor Ron DeSantis (R) has made his feelings about the press known to everyone. The relationship between him and the media isn't likely to get any better after a recent hot mic moment, which caused the governor to get a little heated during an event.
DeSantis recently spoke in Jacksonville, Florida, where a live stream of the event caught a First Coast News reporter, Atyia Collins, talking to someone off camera, telling them that her job was to "ask the tough questions and make him uncomfortable."
For reference, this is the journactivist today: pic.twitter.com/A6J0cRIil6

— Christina Pushaw 🐊 🇺🇸 (@ChristinaPushaw) February 14, 2023
Later, during the conversation, Collins can be heard explaining that her web manager encouraged her to "just run up to" and "yell questions" at the governor. She mentioned she didn't think the tactic would work, explaining that DeSantis already "doesn't like the media."
Christina Pushaw, the administration's rapid response director, called Collins out on Twitter. Pushaw encouraged the local reporter to make sure she isn't "speaking into a hot mic" while waiting to make the governor uncomfortable.
Next time make sure you aren't speaking into a hot mic while you wait to "make him uncomfortable" https://t.co/xB2KZdQlXf

— Christina Pushaw 🐊 🇺🇸 (@ChristinaPushaw) February 14, 2023
The rapid response director later said that journalists were supposed to tell the truth. Pushaw added that sometimes the truth can be uncomfortable, declaring that creating discomfort "shouldn't be the goal — the goal should be revealing the truth."
DeSantis took questions during the event. Collins attempted to ask him about bookshelves being emptied in Duval County following his ban on pornographic material in children's books, mentioning a viral video. Before she could finish her question, DeSantis interrupted her, claiming it was part of a false narrative. The governor explained those opposing his bill were attempting to create this narrative suggesting his administration didn't want books, which isn't the case.
With DeSantis' name being tossed around as a potential candidate in the race for the GOP's presidential nomination, it's only natural the media focus on him more.
Copyright 2023, RepublicanReport.org