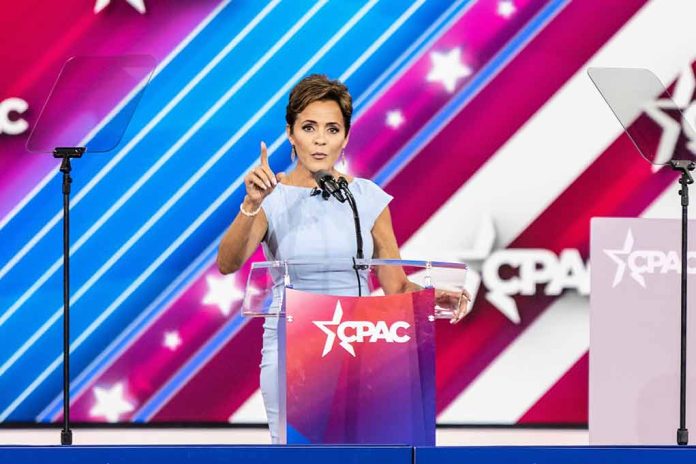 (RepublicanReport.org) – In November 2022, GOP member and former TV anchor Kari Lake lost the Arizona gubernatorial race to her opponent, now-Governor Katie Hobbs (D). Lake has been fighting ever since. She lost her most recent court battle in May, with Maricopa County Superior Court Judge Peter Thompson ruling that the former candidate didn't provide enough evidence to prove her case. Despite her frustration about losing her race in Arizona, Lake might have her sights on another campaign.
On June 22, People reported that sources said Lake "practically lives" at Mar-a-Lago with former President Donald Trump. The ex-president has yet to choose a running mate for his 2024 campaign for the White House, and many speculate that Lake is on the shortlist. The publication stated that the former gubernatorial candidate is a more prominent figure at Trump's estate than the former first lady.
Kari Lake 'practically lives in' a Mar-a-Lago suite as she auditions for VP spot: report https://t.co/vh9n437YY9

— Thomas Kaine (@thomaskaine5) June 21, 2023
Lake's senior advisor responded to the allegations, telling People that the politician doesn't stay at Mar-a-Lago when asked to speak at events at the property. Instead, the advisor said Lake stays at "Hilton properties in Palm Beach" with her spouse, calling the source's assessment of her constant presence at Mar-a-Lago "ridiculous."
In March, Axios reported that Lake was possibly one of four people Trump has been considering as his running mate for the 2024 presidential election. The other three contenders listed in the article were fellow GOP presidential candidate Nikki Haley, Arkansas Governor Sarah Huckabee Sanders, and South Dakota Governor Kristi Noem. The outlet said Trump is leaning toward a woman by his side for the election because his weak spot lies amongst white suburban women.
Although the former president and Lake share the same views on election integrity, Axios concluded that her strong personality might be too much for a Trump/Lake ticket.
Do you think Republican voters would be for or against Lake as a running mate for Trump?
Copyright 2023, RepublicanReport.org