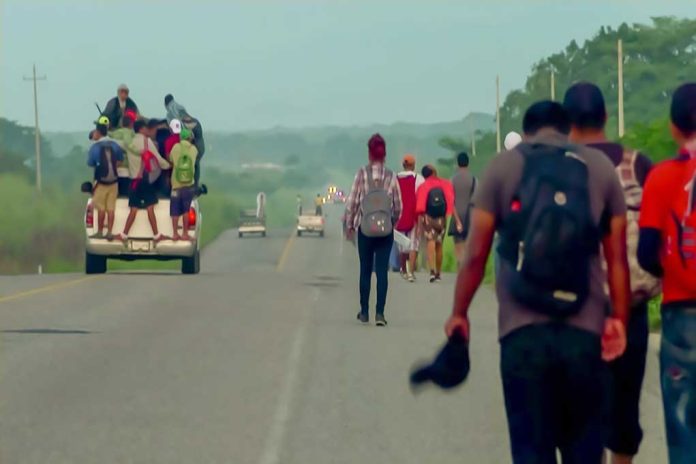 (RepublicanReport.org) – Ever since President Joe Biden took office in 2021, many Republican lawmakers have been enraged about his approach to immigration. In November 2022, Rep. James Comer (R-KY), ranking member of the House Committee on Oversight and Reform, sent letters to leaders within several federal agencies, claiming Biden has a "radical open borders agenda" that is hurting America. A recent exclusive report from the Daily Caller roped in the American Red Cross, saying the organization is worsening the border situation.
On March 9, the Daily Caller News Foundation (DCNF) claimed to have obtained documents proving the Red Cross has been providing migrants with a literal roadmap to the border. Apparently, the maps and guides are part of a larger packet of information donning the International Committee of the Red Cross and American Red Cross logos. According to the news outlet, the maps include hotels, shelters, and clinics where migrants can get support in Mexico and other Central American nations during their journey. In addition, they reportedly include travel lines pointing directly to places along the US border.
The Red Cross is providing materials to undocumented immigrants in an attempt help them successfully illegally cross the border into the U.S., according to a report.https://t.co/pmA6RPfVHK

— Paul Joseph Watson (@PrisonPlanet) March 13, 2023
The Daily Caller included a picture of the alleged map, which has paths pointing to places like El Paso and McAllen, Texas, and Nogales, Arizona — all with border crossing checkpoints. Other documents reportedly include instructions about how to survive the journey, where to get contraceptives, and how to jump onto locomotives.
While the source admits the American Red Cross is one of several entities tasked with helping migrants after they cross the border, they believe the organization is going one step further and ushering people straight to the US. In 2022, Customs and Border Protection reported nearly 2.4 million encounters at the southern border. There have been nearly 875,000 so far this fiscal year.
Arizona Sheriff Mark Lamb recently appeared on Fox News, saying the American Red Cross should tell migrants not to cross instead of giving them a roadmap and instructions. He said, "we can't keep making it easy."
Copyright 2023, RepublicanReport.org