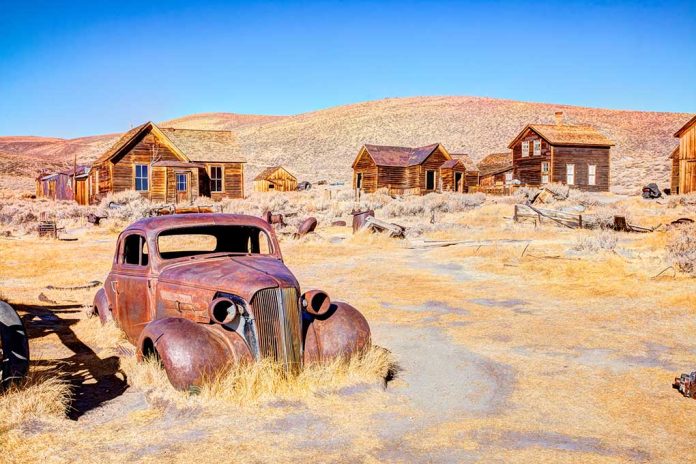 (RepublicanReport.org) – It's hard to believe ghost towns were lively and thriving communities when looking at the area's current state. But once abandoned, a bustling society can quickly turn a town into nothing but tumbleweeds and empty buildings, creating a time capsule of sorts. Many times, the area becomes so dilapidated it's unsafe to visit, but there are some ghost towns you can still explore. Here are a few of the best ones.
Bodie, California, is an abandoned town near Yosemite that once flourished during the gold rush in the early 1900s and housed around 10,000 people in its heyday. Now, the area is preserved as a historic park, complete with time-period buildings with home interiors left by those who took off after fires ran the last of the townsfolk from their homes. Rumor has it that ghosts still remain, and you can visit — if you dare. Interestingly, the gold rush gave rise to many ghost towns.
Kennecott, Alaska, is home to Wrangell-St. Elias National Park, which used to be home to a copper mining town from about 1903 to 1940. But when the commodity dried up, so did the mining company and the entire town. What's interesting about this site is the mining equipment remains, allowing visitors to visually step back in time. You can either tour the area on your own or join a guided group.
https://twitter.com/magioliveira/status/1430561609982914562
The coal mining industry is not what it used to be, leaving behind many towns, depending on the practice, to shut down over the last 100 or so years. But, it was the Great Depression and a new train innovation that shut down the town of Thurmond, West Virginia. The area is now preserved for posterity by the National Park Service. Visitors can view a frozen-in-time bank, mining tower, hotels, train engine house, and passenger depot from the early 1900s.
Copyright 2022, RepublicanReport.org