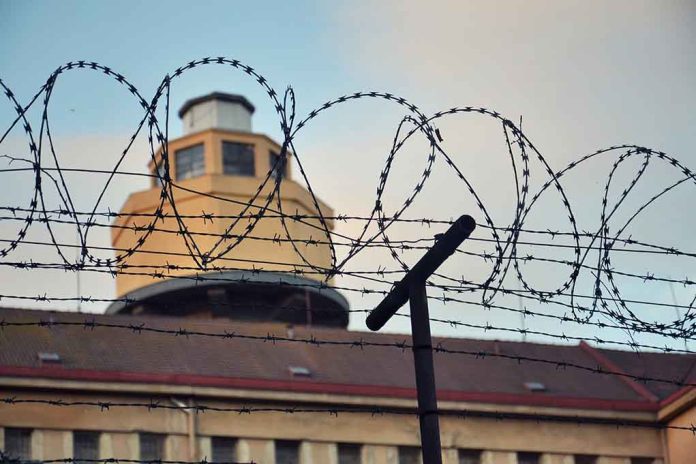 (RepublicanReport.org) – Every few years, news stories circulate about a prison inmate tunneling out of a jail facility or even drug traffickers digging a route underneath the border to smuggle contraband. Breaking with these common themes, an inmate in Georgia's Fulton County Jail dug a tunnel through a prison wall not to escape but to attack a fellow prisoner.
On the evening of Wednesday, May 17, Georgia inmate Kavian Thomas allegedly dug through a shower wall to get to the cell of inmate Derondney Russell. After successfully making it through the hole he made, Thomas attacked his fellow prisoner. While a motive has not been released, police shared images of the hole in the bathroom and multiple shanks and other contraband found in Thomas' cell. Russell is recovering from his injuries in the medical unit. Thomas is currently serving time for arson, armed robbery, and aggravated assault with a deadly weapon.
Georgia inmate tunnels through wall to attack another inmate, police say https://t.co/Y41aIMxOrd

— Chris 🇺🇸 (@Chris_1791) May 22, 2023
Curtis Clark, who serves as Interim Fulton County Jail Commander, told Fox 5 Atlanta that keeping makeshift weapons from prisoners is "a constant challenge" and emphasized the "jail has clearly outlived its useful life." Clark noted that events like this make "it even more challenging for us to do our job of providing the safest possible environment" for both inmates and staff members.
This violent act came after another shady incident at Fulton County Jail. On September 13, 2022, Lashawn Thompson died at Fulton County Jail. His family secured an independent autopsy for their loved one, revealing that many factors led to Thompson's heart failure, including malnutrition, dehydration, and rapid weight loss. In addition, Thompson was not taking his schizophrenia medication at the time of his death and had "severe body insect infestation" from bed bugs, according to NBC News. The prison records leading up to Thompson's death also show a steep decline in his physical and mental health in recent weeks without treatment.
These events show that this prison is unsafe for inmates and poses a risk to those working there. Why do these horrific things keep happening, and how can we prevent more prison violence?
Copyright 2023, RepublicanReport.org