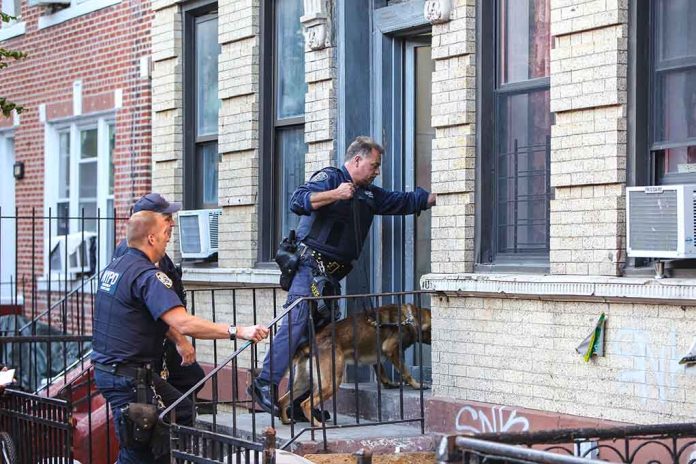 (RepublicanReport.org) – Police in Galveston, Texas, were searching for a 17-year-old allegedly tied to a local murder. Authorities decided to take action and sent a SWAT team to raid what they believed to be the suspect's home. However, they targeted the wrong house. In a statement to The Daily News, City Manager Brian Maxwell said the police chief was placed on administrative leave for 10 days while an investigation was underway.
Texas police chief on leave after SWAT team raids the wrong house https://t.co/5BvFsqOmgJ

— Washington Examiner (@dcexaminer) January 30, 2023
Security footage from inside the home shows the SWAT team escorting the homeowner and three teenagers outside after shooting rubber bullets through the door and windows. Officers detained the residents during the raid.
However, there was a lot of confusion surrounding the incident. Erika Rios, the homeowner, spoke with a local news agency, Fox 26, saying that all four of them were panicked, and she kept asking her son what was happening.
According to The Daily News, she said the SWAT team broke down her door, shattered windows, and threw 15 flashbangs. The homeowner claimed the raid resulted in more than $5,000 worth of damage to her house.
Police were searching for 17-year-old Cameron Vargas, who had an active arrest warrant. Authorities believed the teen was responsible for the murder of 25-year-old Malik Dunn on January 20. Vargas had previously been at the house that evening, but went home.
Officers later arrested Vargas and held him on a $250,000 bond. However, they soon discovered he wasn't responsible for the homicide as someone falsely identified him as the shooter, and dropped the charges against him.
Vargas' mother spoke out in a written statement to Fox 26, saying she was "completely disappointed in [her] police department and in their investigative process" and that her son was innocent. Law enforcement has yet to arrest anyone in connection with Dunn's murder.
As for Rios, she can file forms with the city's risk management department to have the costs of her home repairs covered.
Copyright 2023, RepublicanReport.org