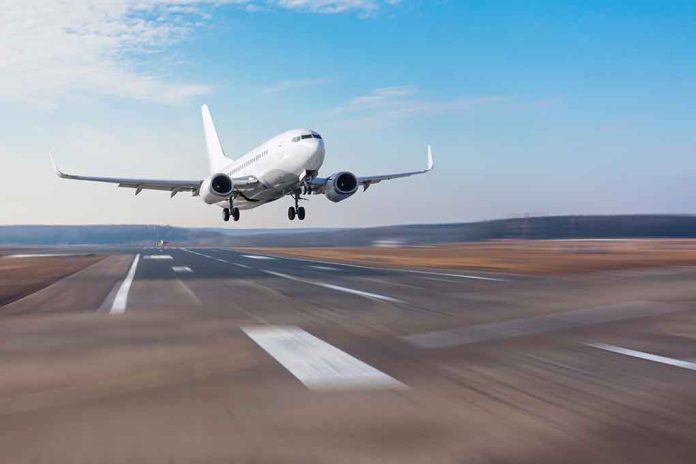 Airplane MISSES Runway – Something Went Very Wrong!
(RepublicanReport.org) – Pilot fatigue is a known problem, both in the United States and globally. In addition, as the air-travel industry has returned to normal following the decline of the COVID-19 pandemic, staffing shortages have been rampant. Now, a recent story out of Ethiopia about two air pilots is turning heads.
According to reports, two pilots flying a Boeing 737 to the Ethiopian capital city of Addis Ababa from Khartoum, Sudan, both fell asleep during the flight. When the autopilot function brought the plane as far as its landing spot, and it failed to begin descending, an alarm went off in the cockpit, waking the crew.
The plane ended up touching down at Addis Ababa's Bole International Airport almost a half hour behind schedule, without any injuries or damage to the aircraft. Ethiopian Airlines has revealed it is investigating the matter and that the two airmen involved are suspended pending the outcome of this probe.
Deeply concerning incident at Africa's largest airline — Ethiopian Airlines Boeing 737 #ET343 was still at cruising altitude of 37,000ft by the time it reached destination Addis Ababa

Why hadn't it started to descend for landing? Both pilots were asleep. https://t.co/cPPMsVHIJD pic.twitter.com/RpnxsdtRBf

— Alex Macheras (@AlexInAir) August 18, 2022
Aviation analyst Alex Macheras used the Twitter thread posted above to not only report the incident, but provide information about pilot fatigue. This condition is believed to be a major threat to safety in the airline industry.
Pilot fatigue has been an issue for years, but reports say that at least in the US, the issue has increased recently. For example, in April 2022, Southwest Airlines Pilot Association noted an increase among its members — from 10 reports per 10,000 duty periods to 35 per 10,000 — between 2019 and March 2022. Other companies, such as Delta and American Airlines, have noted an increase in fatigue as well.
Do you think pilot fatigue may be to blame for the incident in Ethiopia? And if so, should more should be done to combat this safety issue?
Copyright 2022, RepublicanReport.org