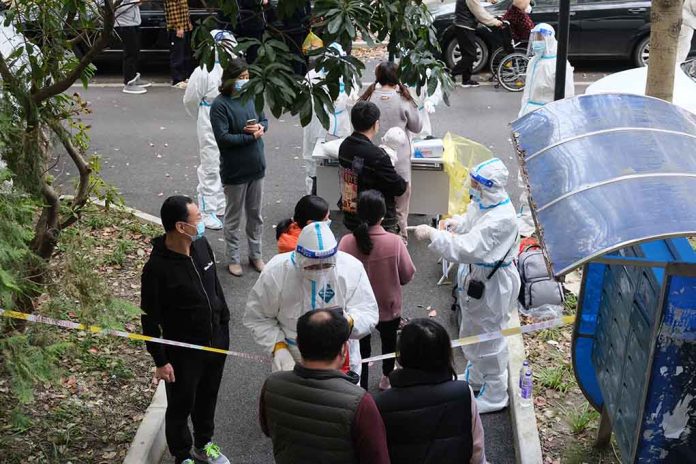 China's "Zero COVID" Policy Leads To Severe Measures In Shanghai
(RepublicanReport.org) – After the initial emergence of the COVID-19 virus in China, the Chinese Communist Party (CCP) claimed it managed to reduce case numbers drastically despite its huge, densely gathered population. Reports from inside the country claimed residents were subject to some of the most draconian lockdown measures in the world.
Two years on, as the rest of the world moves on from the pandemic, it appears Shanghai, China's largest city by population, is struggling under a severe lockdown.
Severe Shanghai Lockdowns Cause Friction Between Citizens & Officials
A Time report from Wednesday, May 11 details the severe limitations the CCP has imposed on the freedom of Shanghai residents, and the knock-on effects restrictions are causing.
The article states that one positive COVID-19 test can have ramifications for huge numbers of people in Shanghai. If someone living in an apartment block tests positive, officials force every single resident of that block to leave their homes and travel to a mandatory quarantine center.
Conditions for Shanghai residents that end up in mandatory quarantine are bleak. Occupants of the quarantine centers have reported they don't have beds or blankets, and one woman claimed she did not have access to heart medication. Reports say authorities are even separating parents from their children.
According to reports, sanitation workers have been entering residences without permission to disinfect them. Shanghai authorities reportedly promised to discontinue this practice following protests from city residents.
These draconian measures are in place despite the fact Shanghai's rate of COVID-19 infection is now relatively low, at least by international standards. On May 8, authorities reported there were 322 locally transmitted cases of the virus, and 11 deaths. Shanghai has a population of approximately 26 million.
Unusually for authoritarian China, some citizens have been protesting against this state of affairs. Some individuals have reportedly arranged to bang pots and pans on their balconies at certain times, resulting in a number of arrests.
Mental Health Issues in the City
As this ultra-strict lockdown continues in Shanghai, individuals' mental health is starting to suffer. An April report from Sixth Tone details how mental health service providers in the city have noticed an uptick in demand of late. This trend was reportedly tied to the extension of lockdowns in early April as the new outbreak of COVID-19 emerged. Case numbers have dropped significantly since then, but the city remains in the grip of a severe lockdown with no end in sight.
The CCP's "zero-COVID" strategy, though quite effective in terms of limiting deaths and infection rates, is likely to be driving the mental well-being of the Chinese people into an increasingly dark place.
Copyright 2022, RepublicanReport.org