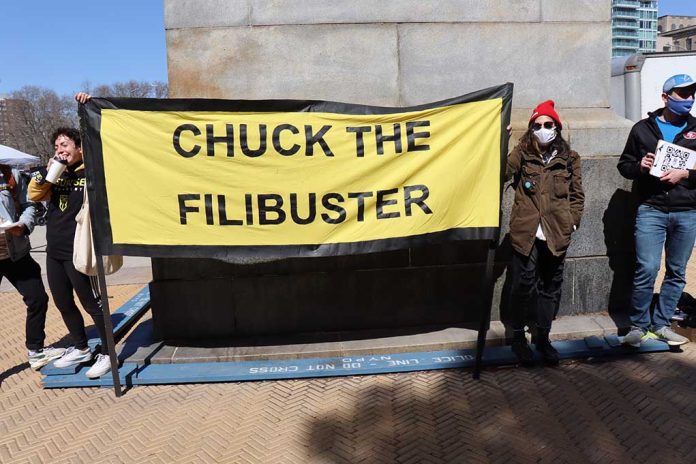 (RepublicanReport.org) – The Senate filibuster has been a cause of controversy for some time now. Democrats hold the thinnest possible margin in the chamber, so Republicans have had no trouble slapping down most liberal proposals this year. Now, there are fresh calls to remove the rule that blocked passage of the voting rights legislation.
After yet another Democratic attempt to advance legislation around electoral access failed, House Speaker Nancy Pelosi (D-CA) was quick to take aim at the filibuster. She suggested the rule was undemocratic and that it needs changing.
The White House echoed this sentiment. On Thursday, October 21, President Joe Biden said he supported making sweeping changes to the filibuster rule while speaking at a CNN Town Hall event. He pointed to the recent disputes over the debt ceiling and the potential for a default on the national debt as part of his reasoning. White House Press Secretary Jen Psaki reaffirmed this stance during a press conference last week, as seen in the video below.
Psaki on Biden opening the door to filibuster reform or abolition last night:

"We are at an inflection point … not getting voting rights done is not an option." pic.twitter.com/w57i9jgbTr

— The Recount (@therecount) October 22, 2021
Of course, removing the filibuster is easier said than done. Without some Republican backing (which appears highly unlikely), the Democrats would be unable to make any significant changes to the current rule.
Copyright 2021, RepublicanReport.org