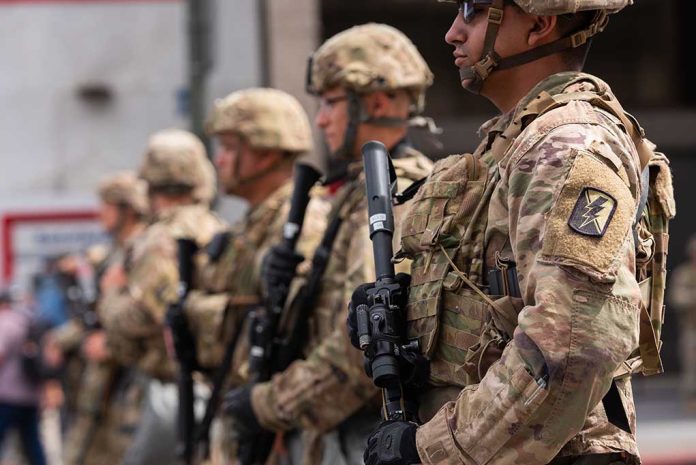 (RepublicanReport.org) – Several of America's cities have struggled with drug epidemics. San Francisco, California, has become a hot spot for fentanyl-related overdose deaths. The problem has deteriorated so much that California Governor Gavin Newsom has called in the National Guard to offer aid to local authorities.
California Gov. Gavin Newsom deploys the National Guard to San Francisco as the Democrat run city continues to crumble.

Yikes.https://t.co/9UuZ2CExjV

— Collin Rugg (@CollinRugg) April 22, 2023
Fentanyl has taken a hold on the people of San Francisco. According to the San Francisco Chronicle, the city has seen one of the highest overdose rates in the US. Even with its elevated rate, the city saw a 41% increase in fentanyl-related deaths from the same time frame in 2022, when 142 people died from overdosing on the opiate in the first three months of that year.
The city has already counted more than 200 deaths so far in 2023, meaning it's on pace to reach more than 800 by the end of the year. Governor Newsom recently announced a collaboration between the San Francisco Police Department, the California Highway Patrol, the San Francisco District Attorney's Office, and the California National Guard to address the rising deteriorating fentanyl crisis.
The Democrat noted his administration is focusing on preventing fentanyl trafficking and holding the people heading these drug operations responsible. Newsom admitted there was a drug crisis brewing but attempted to downplay its severity by claiming places like Jacksonville, Florida, and Fort Worth, Texas, had higher rates of violent crime. But what caused San Francisco to fall so far in the first place?
The city, like much of the Golden State, decriminalized some drug use and set up areas where people can "safely" use and abuse their substance of choice. San Francisco authorities also wouldn't prosecute drug users, essentially allowing them to use freely. The city's strategy seemingly encouraged the practice, and it seems its citizens are now paying the price. Will the new collaboration improve San Francisco's status?
Copyright 2023, RepublicanReport.org