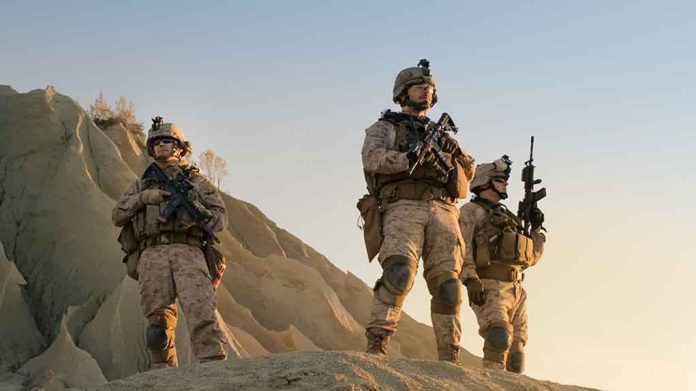 Military Base ATTACKED – Now We Know What Happened
(RepublicanReport.org) – Though the threat level in terms of terrorism in the Middle East has died down somewhat since the heyday of ISIS a number of years ago, there is still violence in the region. In August, a US military base in Syria sustained attacks from drones. Now, new intelligence has emerged to suggest they were under the control of militants with the backing of the Iranian government.
US Officials Respond to New Iranian Threat
This information first became public when an American military command posted a photo on Twitter showing the remains of Iranian drones. The post also contained a map showing that the drone operators were based in Iraq. However, defense officials in the US ordered the tweet taken down over concerns about ongoing operations in the region. However, the media did receive confirmation the information in the post was accurate.
This revelation poses a challenge to the White House. Since President Joe Biden took office, he has sought to stay away from direct involvement in Iranian and Iraqi politics, which can be highly unsettled. Retaliatory strikes against militias in Iraq have aimed for targets in Syria or in the region of Iraq bordering Syria. Launching attacks in that area does not pose any serious threat of major retaliation; were our troops to bomb targets in central Iraq; however, the fallout could be much more severe. Such a strike could cause anti-US groups there to join forces, which would be a highly threatening development.
Where Do We Go From Here?
Baghdad is currently in the midst of a tumultuous political situation, with a number of Shia Muslim parties, who have the support of Iran's government, currently locked in a standoff with Moqtada al-Sadr over who should take the reins in Iraq. At the same time, there are still a significant number of US military personnel stationed in the area. This includes 2,500 troops in Iraq and 900 in Syria.
There have been a series of small skirmishes between US and local forces in recent months. Militias reportedly attacked US bases in Syria with rockets recently, causing wounds to three US operatives. None of their injuries were serious, and officials have confirmed all three are now in full service once again.
Copyright 2022, RepublicanReport.org