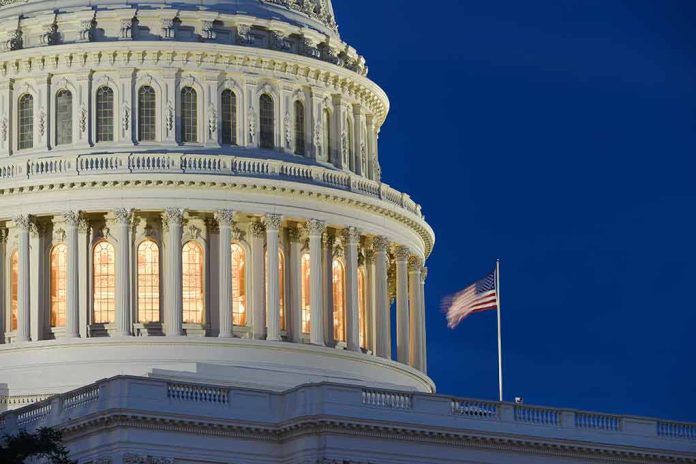 (RepublicanReport.org) – On May 9, Representative George Santos (R-NY) was indicted, and charged with 13 felony counts of wire fraud, stealing public funds, illegal money transfers, and lying on his financial disclosures to the House. He pleaded not guilty in court, paid his bond, and soon returned to the halls of Congress. In light of his refusal to resign, House Democrats tried to have him expelled. House Republicans blocked the measure, leading to an altercation between Representative Jamaal Bowman (D-NY) and Marjorie Taylor Greene (R-GA).
On May 17, reporter Ursula Perano posted a video of the exchange between the two House members. Bowman implored Greene to "save [her] party" by expelling Santos. The Georgia rep insisted President Joe Biden needed to be removed to "save the country." The tit for tat was going nowhere when Representative Alexandria Ocasio-Cortez (D-NY) drew Bowman's attention as she walked by, telling him Greene "ain't worth it," and he should just move along.
Rep. Jamaal Bowman, who heckled George Santos mid Santos-gaggle moments ago, in a tiff with MTG outside the Capitol steps.

AOC comes up at the end: "She ain't worth it bro" pic.twitter.com/R5L20WvhFK

— Ursula Perano (@UrsulaPerano) May 17, 2023
According to The New York Times, the push to expel Santos failed by a vote of 221 to 204, with Republicans voting along party lines and more than a handful of Democrats weighing in with a simple "present" vote. The move requires two-thirds of the Lower Chamber to pass the resolution to the House Ethics Committee.
Although the exchange between Bowman and Greene might have started with the Santos issue, the New York legislator went beyond expelling his colleague while talking to Greene. He said the Republican party is "hanging by a thread," and the GOP needed to address the US gun problem, reject Q-anon, stop with the MAGA agenda, and approve the debt ceiling. Greene retorted that America needs to close the border and accused Democrats of losing migrant children. She also said Bowman wasn't "very smart."
The Georgia legislator was already walking away when AOC approached Bowman to encourage him to walk away as well.
Copyright 2023, RepublicanReport.org