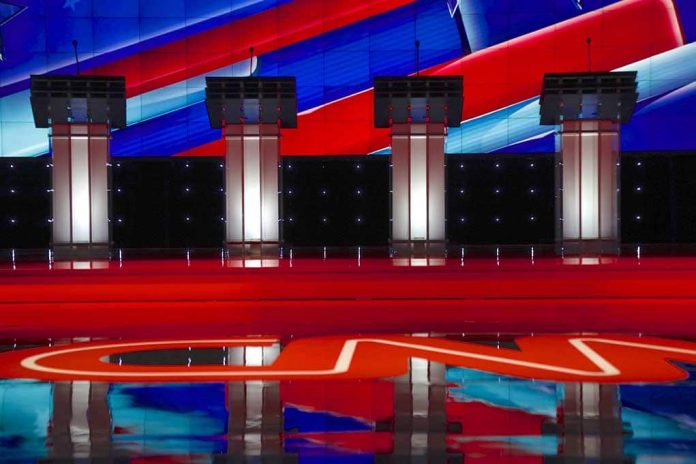 (RepublicanReport.org) – During the election season of 2020, there was much discussion around the traditional system of presidential debates. The Commission on Presidential Debates (CPD), a self-proclaimed nonpartisan group, has mediated the events since the 1980s, but there is some question as to whether it's up to the task. Some analysts felt there was too much scope for bias by moderators against conservative candidates last year and that candidates were inclined to interrupt each other too often.
So, is there room for presidential debates moderated by the CPD in the future? The Republican National Committee (RNC) appears to think not.
The RNC Pushes for an End to CPD Presidential Debates
On Thursday, January 13, the RNC wrote a letter to the debate commission advising it was preparing to implement a rule change that would require prospective Republican presidential candidates to pledge not to participate in any CPD-sponsored debates. This decision reportedly follows months of discussion on the topic among Republican leaders. Ronna McDaniel, who is chair of the Republican Party, reportedly wrote to the CPD in June of last year to complain about the GOP's loss of faith in the institution and to demand changes to its structure and operations.
The CPD gets its funding from corporate and private donors and foundations. Neither of the main political parties gives money to the commission, nor does the government. However, Republicans have repeatedly insisted that the commission's operations favor Democrats over GOP candidates.
How Would Post-CPD Presidential Debates Look?
What the RNC is proposing isn't a total end to presidential debates. The CPD only came into existence in 1987, and presidential hopefuls often took the stage together to defend their respective policies before that.
If the RNC does decide to stop supporting the CPD, though, it will herald a significant change in the administration of presidential debates from now on. Candidates would only be able to debate each other on a one-off basis. Both parties agree to the setting, length, date, time, location, moderatorship, and other details of debate events every time they want to have one.
This would lead to a great deal more administrative work in each presidential election cycle. However, given the whispers of bias that have surrounded the CPD for approximately a decade, it might also restore the faith of the voting public in the electoral debate system.
What do you think? Should the current system of presidential debates live on, or is it time for the CPD to go?
Copyright 2022, RepublicanReport.org