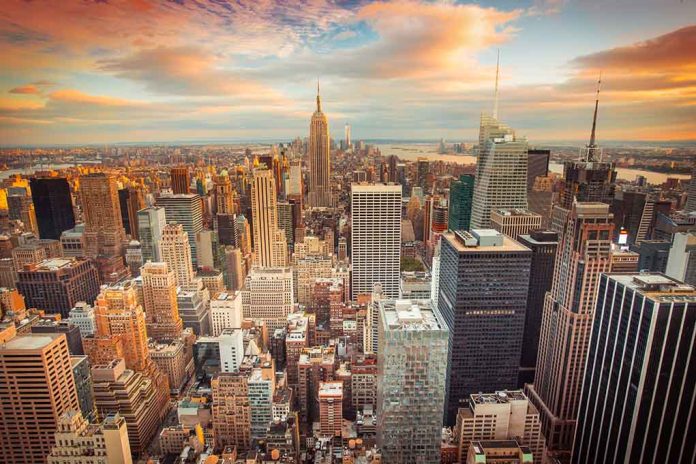 Woman Falls to Her Death From New York Skyscraper
(RepublicanReport.org) – New York City is among the most popular tourist destinations not just in the United States, but in the world. There is no place more famous in the Big Apple than Times Square. Sadly, tourists milling about the square on Wednesday, October 12, bore witness to a grim scene as a 26-year-old woman fell to her death from a rooftop bar on the Hyatt Centric building in the area.
Initial reports stated the woman died by suicide, but subsequent conflicting accounts suggest she may have accidentally fallen from the rooftop. Reports state the unidentified woman was on the phone and climbing on a piece of furniture immediately prior to her fall from the 54th floor. She landed on a ledge on the 27th floor of the building. Bar staff reportedly attempted to grab her just before she went over the edge.
Though the authorities have not named the woman, they believe she was from Hollis in Queens.
Horror in Times Square after woman, 26, jumps to her death from 54th floor of New NYC's 'highest open-air hotel rooftop bar': Made phone call, before suddenly standing on furniture and jumping over railing 
via https://t.co/iDmtTZlBDX https://t.co/QYZRhAQkn4

— ImageKingUSA (@ImageKingUSA1) October 13, 2022
First responders covered the woman's remains with a sheet before removing them from the balcony. A number of onlookers from nearby buildings captured footage of the retrieval process on their smartphones. A cleaner who was working on the 27th floor at the time of the incident said things could have been worse had the woman fallen all the way to the sidewalk.
Copyright 2022, RepublicanReport.org