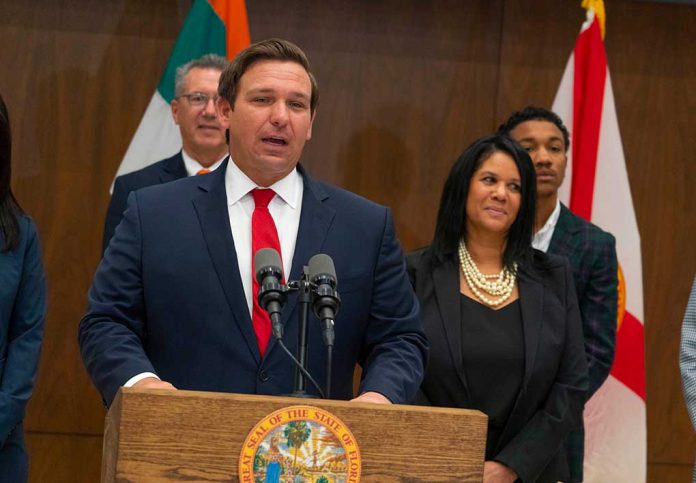 (RepublicanReport.org) – Florida Governor Ron DeSantis made waves in the political world last year by sending a plane full of 50 immigrants, mostly Venezuelan, from Texas to the politically lopsided Martha's Vineyard. The move angered Democrats and earned the governor praise from his party. DeSantis is now taking it a step further and turning up the heat on the Left and the GOP heading into a presidential election.
DeSantis eyes program to transport more migrants from Florida: memo | Just The News https://t.co/581Hznoj2v

— John Solomon (@jsolomonReports) February 3, 2023
The Florida Republican has called for a special session of his state's Congress. DeSantis is looking to use this time to address issues such as how they can deal with Disney's Reedy Creek district. Additionally, he hopes to expand his program to send immigrants to Democrat strongholds and sanctuary cities. Legislators are reportedly considering new legislation that would create an "Unauthorized Alien Transport Program" (UATP).
Both chambers of the Florida Congress are helmed by Republicans, House Speaker Paul Renner, and Senate President Kathleen Passidomo. According to POLITICO, Each of the congressional leaders sent internal memos to their members explaining the UATP is in response to the increased number of illegal migrants attempting to use the Florida Keys to gain access to America. However, neither of the memos provided specific details about the immigration policy.
The governor's new proposal indicates that he isn't just wanting to transport undocumented individuals from Florida but any state in the US. DeSantis has already received $12 million in funding to move migrants and provide relief for communities overwhelmed by the influx of undocumented individuals. The UATP is asking to add another $12 million.
The draft proposal accuses the federal government of failing to secure America's Southern Border, noting the crisis has negatively impacted the safety of people living in the US and burdened education and healthcare systems. DeSantis recently said Americans are tired of Biden's open border policy and the lack of rule of law.
The governor has a high chance of seeing his program succeed, given his support among Floridians and his popularity among Republicans. Adding to the likelihood of the UATP succeeding is the fact that both chambers of the state's congress are held by his party, potentially giving him an easy path to success.
Copyright 2023, RepublicanReport.org