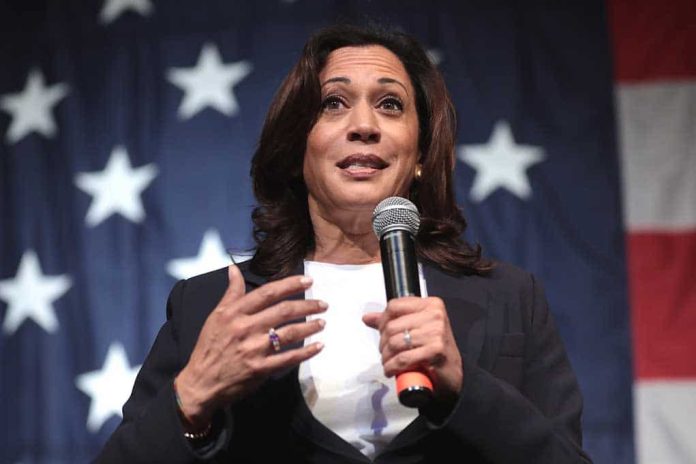 (RepublicanReport.org) – Vice President Kamala Harris seemingly poses a real problem for the Biden administration. Reports from within the White House have indicated she is not getting along well with other senior administration officials, and members of her own staff feel disillusioned with her role in government.
Another issue is her performance in opinion polls. Earlier this month, a voter survey showed Harris's approval rating at just 28%, making her less popular than President Joe Biden and Congressional lawmakers from both parties.
With Biden looking less likely to run for the White House again in 2024, the Democrats could face 2024 with a disillusioned and deeply unpopular Kamala Harris as the apparent replacement; unless that is, they had a creative way of getting rid of her.
Harris for SCOTUS?
Last weekend, The Telegraph (a UK newspaper) suggested the Democratic party might be considering the "nuclear option" for dealing with the problem of Kamala Harris: nominating her to the US Supreme Court.
Of course, that's not the most straightforward course of action. The nation's highest court already has nine justices. To put Harris on the bench, Democrats would need one of the nine to step down or pass away.
Liberal commentators previously speculated Justice Stephen Breyer (83) might consider stepping down so a younger, more Liberal judge could replace him. However, the idea ran into trouble when Breyer himself dismissed the idea of retirement, stating he intended to serve on the bench for years to come.
Alternatively, Democrats might decide to explore court-packing as an option. However, this is a highly controversial avenue, and it could present a large number of legal and constitutional hurdles.
The First SCOTUS Justice to Fail the Bar
If Joe Biden should decide to nominate Kamala Harris to the Supreme Court and the Senate confirms her, she would earn the questionable distinction of being the first SCOTUS Justice in history to have failed the Bar exam. She could not pass the California Bar the first time she attempted it. This distinction would not disqualify her from sitting on the Supreme Court, but it would be unusual for someone in the position to have such a blemish on her record.
The rumors about Kamala Harris on the Supreme Court bench have set the world of news media ablaze with speculation. There's no legal or Constitutional reason why she couldn't serve there. However, considering her questionable academic background and the fact Republicans could very well retake control of the Senate in 2022, her nomination might struggle.
Copyright 2021, RepublicanReport.org