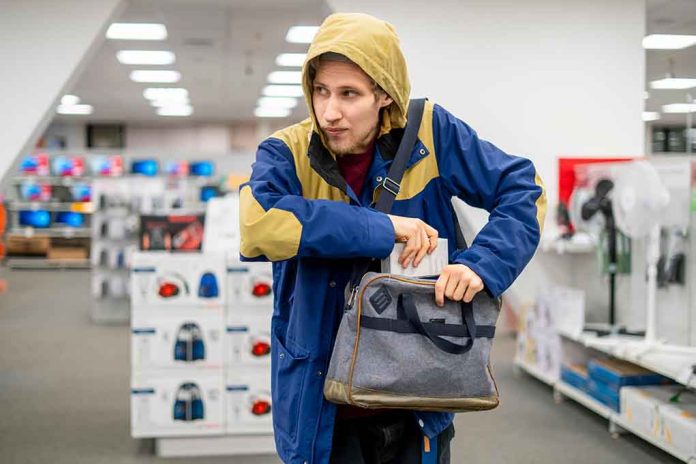 Feds Launch MAJOR New Initiative as Crime Surges
(RepublicanReport.org) – Organized smash-and-grab retail thefts have become more common over the last few years. During the 2021 holiday season, videos circulated online and on nightly news broadcasts across the country showing mobs of criminals stealing trash bags full of merchandise from high-end retail stores. In December 2021, thieves stole $1 million in purses from a high-end retailer, Only Authentics in Palm Beach, Florida.
A new report by Homeland Security Investigations (HSI) and the Association of Certified Anti-Money Laundering Specialists (ACAMS) details how agencies can combat the smash-and-grab robberies.
Combating Theft
According to law enforcement experts, the smash-and-grab robberies aren't happening organically. Organized crime syndicates are allegedly recruiting low-level criminals in towns around the country and paying them between $500 and $1,000 to steal items at luxury stores. The crime syndicates then resell the goods, to fund their criminal behavior.
HSI and ACAMS released a report titled "Detecting and Reporting the Illicit Financial Flows Tied to Organized Theft Groups and Organized Retail Crime," to help fight large-scale retail theft. An ICE press release stated the report highlights red flags that could help law enforcement identify theft rings. For example, officials should look for high-dollar wire transfers, structured bank withdrawals and deposits, purchases of heat guns, lighter fluid, and other items used by criminals.
Low-Risk, High-Reward
The report states that organized retail theft is a "low-risk, high-reward business line for transnational criminal organizations" that puts the public at risk and hurts the economy. In addition to identifying red flags, the agencies are provided with a guide for experts investigating financial crimes. It also teaches law enforcement how the organizations are able to launder $69 billion through America's financial system.
ACAMS and HSI make it clear retailers, online marketplaces, law enforcement, and banks are going to have to form alliances in order to share information and combat the thefts. The report suggests financial institutions enhance their counterterrorist financing and anti-money laundering programs in order to detect crimes.
HSI's Acting Executive Associate Director, Steve Francis, said the theft rings are "leading to brazen, more violent attacks in retail stores." He went on to say the criminal organizations planning the thefts are "involved in other serious criminal activity." The director explained solving the problem and stopping the thefts are important to protecting communities, employees and consumers.
Some retailers didn't wait for the federal government to issue a report about the problem. Instead, they hired private security companies to patrol their stores. Do you think having a plan from law enforcement will help them protect the stores even further?
Copyright 2022, RepublicanReport.org