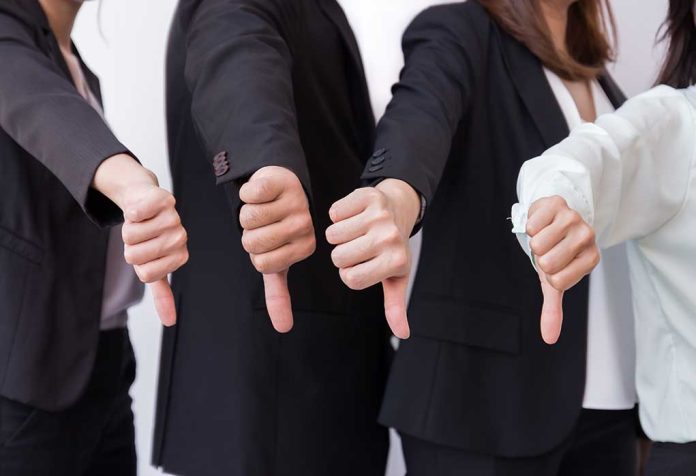 Stunning New Poll – The U.S. Is In Trouble And Americans Know It
(RepublicanReport.org) – It's no secret Americans are unhappy with their government. Since the botched military withdrawal from Afghanistan last year, President Joe Biden's average approval ratings have hovered in the forties. Now, yet another voter survey has come out painting the president in a bad light.
The latest poll from Gallup reveals broad dissatisfaction among American voters. The study gave President Biden an approval rating of 41%, which is consistent with his performance over the last number of months. Furthermore, the survey revealed just 16% of Americans are satisfied with the general direction the country is taking at the moment. This marks a drop of six points since the last iteration of this poll.
GALLUP Poll: Just 16% of U.S. adults are satisfied with the way things are in the nation

Country Direction
Satisfied 16% (-6)
Dissatisfied 83% (+6)

Congress Approval
Approve 18% (-2)
Disapprove 77% (+1)

+- changes from April poll

05/02-05/22 / 1,007https://t.co/Mv0mDMtzFa

— InteractivePolls (@IAPolls2022) May 25, 2022
There's a clear breakdown along party lines, with just 4% of Republicans saying they're happy with the direction the country is heading in compared to 24% of Democrats and 18% of independents. Despite Joe Biden's low overall approval rating, he retains strong support (82%) among Democratic voters. Very few Republicans (3%) share this view.
With inflation hurting Americans' pockets, foreign policy issues increasingly causing worries, and mass shootings on the rise, is it any wonder voters are unhappy with their leaders? What do you think would improve the state of our nation? Pop us an email and let us know!
Copyright 2022, RepublicanReport.org