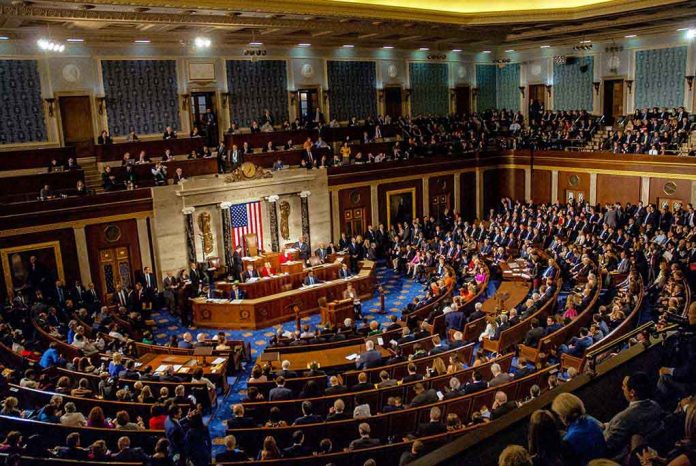 New Evidence Suggests Midterms Is a Lost Cause for Democrats
(RepublicanReport.org) – The midterm elections are now just weeks away, and the prospects for liberal candidates in many areas are looking increasingly bleak. Polling projections suggest the House of Representatives is set to fall into GOP hands next year, and the Senate could well go the same way. A meta-analysis from RedState illustrates just how bad things are looking for the Left in many key races that could dictate the balance of power in Congress next year.
The Elections in Which Democrats Are Vulnerable
The article looked first to Rhode Island, highlighting the race in the 2nd District between Democrat Seth Magaziner and Republican Allan Fung. As you can see from the tweet below, a recent poll from Boston Globe Rhode Island and Suffolk University put the Republican eight points ahead of the Democrat. The RedState article highlights that this is a heavily blue-leaning area, even allowing for changes that have recently come about through redistricting.
NEW: Time for Dems to break glass in case of emergency in #RI02?@Globe_RI poll out today finds GOP's @AllanFungRI leading by 8 pts – outside the MoE and even better than his 6-pt lead in our poll last week

Fung 45%
Magaziner 37%
Gilbert 5%
Undecided 13% https://t.co/mkvowP2RQC

— Ted Nesi (@TedNesi) October 11, 2022
Another race of note is the one taking place in the 6th District of the state of Oregon. There, Republican candidate Mike Erickson has a five-point edge over Democratic state Senator Andrea Salinas. The study has a margin of error of 4.83%, which is less than Erickson's lead in the polling results.
🚨 Oregon House District 6 Poll

(R) Mike Erickson 44% (+5)
(D) Andrea Salinas 39%

⦿ Cygnal (R)
⦿ 09/29-09/30
⦿ 400 LV
⦿ MoE ±4.83% pic.twitter.com/fpQqNQzPai

— InteractivePolls (@IAPolls2022) October 6, 2022
Other Battlegrounds
It's not just Democratic strongholds that are in trouble, however. According to analyses quoted by BallotPedia, some Republican incumbents are also facing battles to stay in power this November.
In New Mexico's 2nd District, incumbent Rep. Yvette Herrell (R) is facing off against Democrats Gabriel Vasquez and Eliseo Luna. Last year's redistricting has given liberal candidates a new edge in an area that has traditionally leaned to the Right. Herrell, who is a freshman Congresswoman, is running on a platform of rejecting the Biden Administration's approach to managing inflation, securing the border, and working to reduce the levels of violent crime in communities.
In the 27th Congressional District in California, redistricting has displaced incumbent Rep. Judy Chu (D). Republican Rep. Mike Garcia, who previously served in the 25th District, is now facing off against Christy Smith to replace Chu. Expert analysis suggests this new district leans Democratic, as an estimated 55% of voters would have opted for President Joe Biden over former President Donald Trump in the 2020 election.
How do you see this year's midterm elections unfolding? Might the Republican Party really regain control of both chambers of Congress?
Copyright 2022, RepublicanReport.org