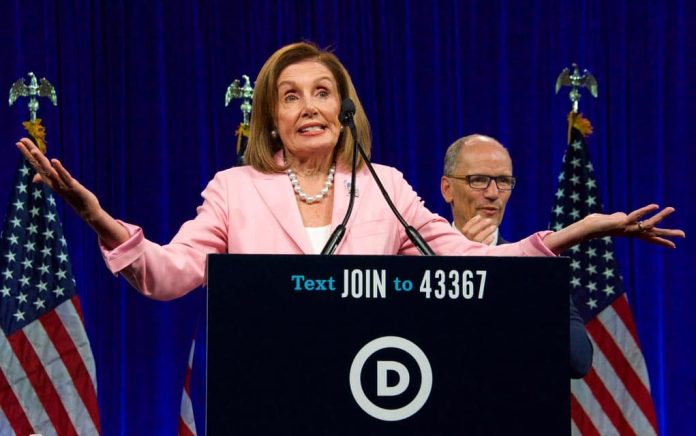 (RepublicanReport.org) – The debt ceiling is increasingly becoming a bone of contention in Washington, DC. Treasury Secretary Janet Yellen has repeatedly warned of an urgent need to up the limit for Congressional borrowing, claiming the US will run out of money in October unless Congress can borrow more cash. However, lawmakers have been starkly at odds over how to proceed.
On Thursday, September 23, House Speaker Nancy Pelosi (D-CA) suggested a novel (but unspecific) solution to the problem. She thinks legislators should abandon the practice of intermittently battling over whether to increase the debt ceiling, which has been something of a tradition since the system began in 1917. Pelosi did not specify what kind of alternative approach might work instead.
Nancy Pelosi says 'there's some doubt' as to whether debt ceiling standoffs should be a political 'tradition'

It wouldn't be if politicians would quit spending money we don't have which only puts our children & grandchildren deeper in debt to global bankers.

— 🇺🇸 GHOST IN THE MACHINE 🇺🇸 (@DannyMathews15) September 24, 2021
Earlier in the week, Pelosi and her chamber colleagues passed a funding bill that would have suspended the debt limit. However, it faltered in the other chamber, as Senate Minority Leader Mitch McConnell (R-KY) insisted his party would not support any attempt to raise the ceiling. Republicans view the prospect of a debt-ceiling increase as encouragement of proposed Democratic spending, which has been extensive since the Biden administration entered office.
While it's not clear precisely what Nancy Pelosi meant by her statements, it's obvious that Democrats and Republicans will have to work together to figure all this out, and soon.
Copyright 2021, RepublicanReport.org