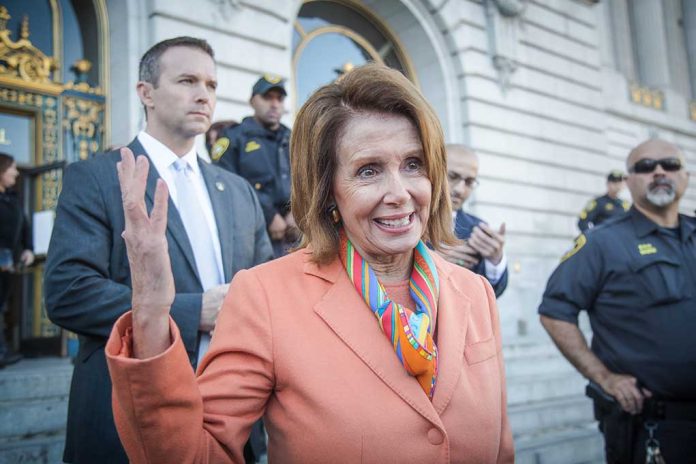 (RepublicanReport.org) – On Friday, November 5, the US House of Representatives finally passed an infrastructure proposal that will bring about sweeping investments in many areas. The bill has already passed the Senate, so it's now up to President Joe Biden to sign the $1.2-trillion deal into law. House Speaker Nancy Pelosi (D-CA) referred to the other significant legislative effort currently underway in Washington during a speech at United Nations climate talks in Glasgow this week.
Pelosi brought up the $1.85-trillion "Build Back Better" spending bill in an effort to discuss America's attempts to fight climate change. She noted the bill prioritizes the climate and the rights of women and young people and cited statistics from the UN Development Program stating the majority of those suffering displacement because of global warming are women. She appeared to suggest the bill, which Congressional Democrats have stalled, marks a move away from the policies of former President Donald Trump.
However, not everyone, including some Democrats, is keen on the bill and its aims to achieve. Rep. Jim Banks (R-IN), chair of the Republican Study Committee, points out that the benefits of the spending may flow to China rather than the US.
🚨🚨🚨 NEW from Chairman @RepJimBanks:

The only thing Joe Biden, Nancy Pelosi, & Democrats in Congress will be "building back better" in their massive tax and spending bill is China's economy.

More on how the Democrats' #BuildBackBeijing bill puts China first and America last: pic.twitter.com/eQ5xggr8Ah

— RSC (@RepublicanStudy) November 5, 2021
It appears, though, Speaker Pelosi and the majority of her party colleagues are unconcerned by such practical and important considerations.
Copyright 2021, RepublicanReport.org