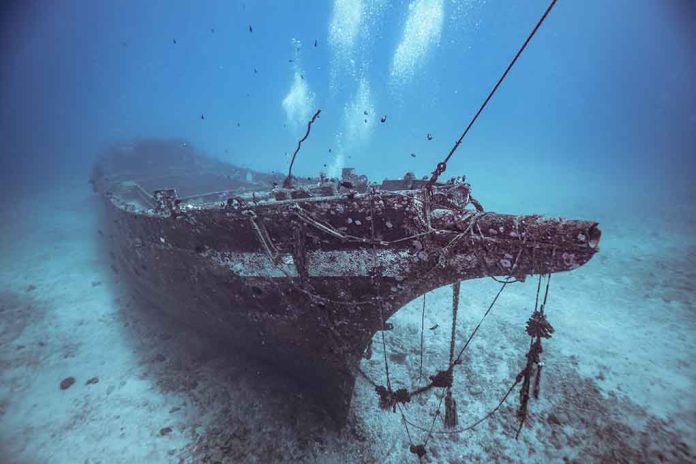 (RepublicanReport.org) – In 2015, a hydrographic survey of the area off the Southern coast of England picked up an anomaly. Four years after the scan, divers discovered it was actually a shipwreck. From that point, the site was known as the "Unknown Wreck Off Eastbourne." Now, nearly four years after the discovery, experts have finally solved the mystery behind the shipwreck — and it's a whopper.
UK-NL cooperation leads to great archeological find off the British coast: wreckage Dutch ship Klein Hollandia.
Probably sunk by English ships in 17th century.
From times of war to #NorthSeaNeighbours …
Great pictures by James Clark. pic.twitter.com/0Nb3lrqkHf

— Karel van Oosterom (@KvanOosterom) January 27, 2023
According to a release from Historic England, archaeologists and scientists have confirmed the vessel's identity. The "Unknown Wreck Off Eastbourne" is actually a 17th-century ship named the Klein Hollandia. Teams from the Cultural Heritage Agency of the Netherlands (RCE), the Nautical Archaeology Society (NAS), and Historic England (HE) worked together on the discovery.
After its construction in 1656, the Klein Hollandia was "involved in all major battles" from 1665-1667 during the Second Anglo-Dutch War. The warship was under the ownership of one of the Dutch Republic's five admiralties, the Admiralty of Rotterdam.
NAS CEO, Mark Beattie-Edwards, noted the amount of wooden structure in the vessel's hull, pottery, cannons, and marble tiles were all evidence of the ship returning from Italy in the late 17th century. Beattie-Edwards said they were confident in identifying the vessel after four years of research and investigations.
He notes the Klein Hollandia was Admiral de Haese's squadron tasked with escorting the Smyrna fleet as it sailed back to the Netherlands from the Mediterranean. However, as the fleet neared the Isle of Wight, an English squadron under the command of Admiral Holmes attacked it, resulting in the vessel sinking to its final resting place, 103 feet below the water's surface, in 1672.
The Klein Hollandia lay there for centuries before finally being discovered. Such a find beckons the question of what else could be lurking on the seafloor, just waiting to be discovered but may never be.
Copyright 2023, RepublicanReport.org