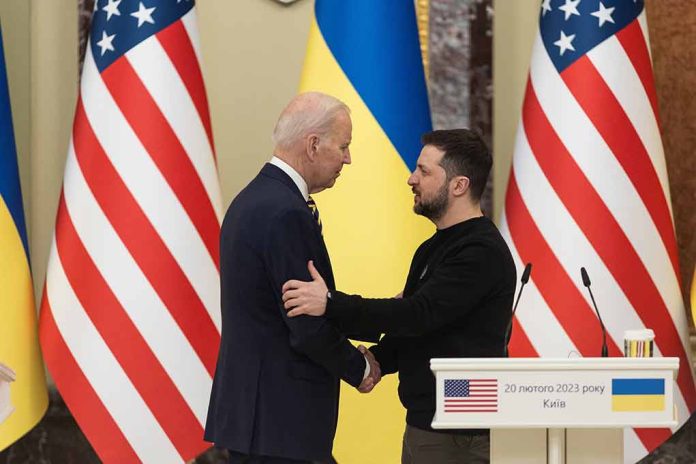 (RepublicanReport.org) – By the end of 2022, Congress approved over $113 billion worth of aid earmarked to help Ukraine. According to the Committee for a Responsible Federal Budget, a non-partisan group that tracks government spending, that number was in addition to the over $65 billion it had already approved since Russia invaded. According to a recent poll, the majority of Americans have had enough.
On August 4, CNN released a poll SSRS conducted for the outlet throughout July. Of the nearly 1,300 surveyed, 55% said Congress should stop authorizing funding for Ukraine, while 45% said the government should continue to rubber-stamp aid for the warring nation. When asked if the US should do more to stop Russia from attacking Ukraine, 48% said America should do more, while 51% said the United States has done enough already.
Still, the majority of those polled were worried that the war in Ukraine would either lead to Russian attacks elsewhere, threaten US national security, or threaten democracy in other areas of the world. A whopping 77% of pollsters are concerned the war between Russia and Ukraine will go unresolved for a long period of time. Less than 50% of the people asked believe the US should continue to send weapons. Instead, 63% and 53% think the US should help through intelligence gathering and military training, respectively.
Recently, The Washington Post shared a chart showing the amount of aid Ukraine has received since the beginning of the war. It showed that the United States' assistance has already far outweighed any other region's. The European Union reportedly holds the title for second in this regard, having provided half the amount of the US.
This issue is likely to be a significant one in the upcoming presidential election. While President Joe Biden is staunchly in Ukraine's corner and committed to providing aid, some of the GOP candidates feel, like most Americans, that the US has done enough.
What do you think would happen if America stopped sending aid to Ukraine? What do you think the US should do?
Copyright 2023, RepublicanReport.org