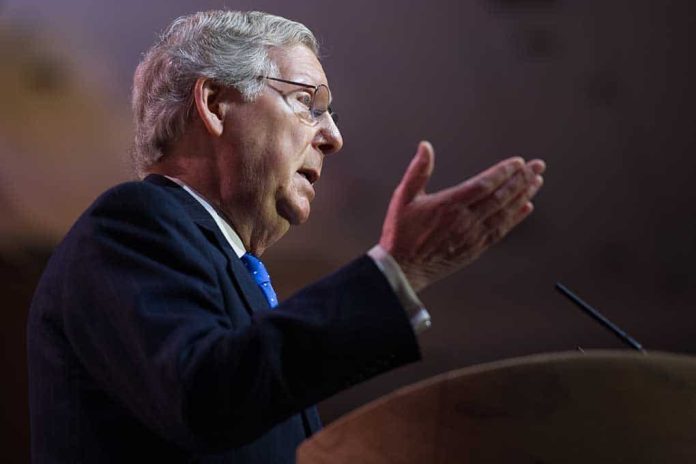 (RepublicanReport.org) – The 2022 Super Bowl was played in Inglewood, California, on Sunday, February 13, and ended with a dramatic win by the Los Angeles Rams. There's since been a lot of discussion about the star-studded half-time show and the large number of celebrities who attended the event maskless in apparent disregard of the area's mask mandate. According to one senior Republican, those scenes were just more evidence it's time mask requirements were ended in schools once and for all.
Senate Minority Leader Mitch McConnell (R-KY) commented on the situation Monday, saying it was ridiculous that famous elites should be able to go maskless while many of the nation's schoolchildren still cannot. He highlighted the fact that students in K-12 schools in California must still wear masks every day because of the rules that Democratic leaders insist on keeping in place.
MASKS: Senate Minority Leader Mitch McConnell (R-KY) mocks some Democrats' sudden shift on mask mandates: "The only science that's changed in the last two weeks is the political science. The only data that's changed in the last two weeks is Democrats' polling data." pic.twitter.com/FtzTB3aTra

— Forbes (@Forbes) February 14, 2022
This problem stretches beyond California, though. In Washington, DC, Mayor Muriel Bowser recently announced most mask mandates in the nation's capital would cease, effective March 1. Unfortunately, however, schoolchildren in the locale will not benefit from the change; they still have to wear face coverings until further notice.
Do you think the time has come to get rid of mask mandates for good?
Copyright 2022, RepublicanReport.org