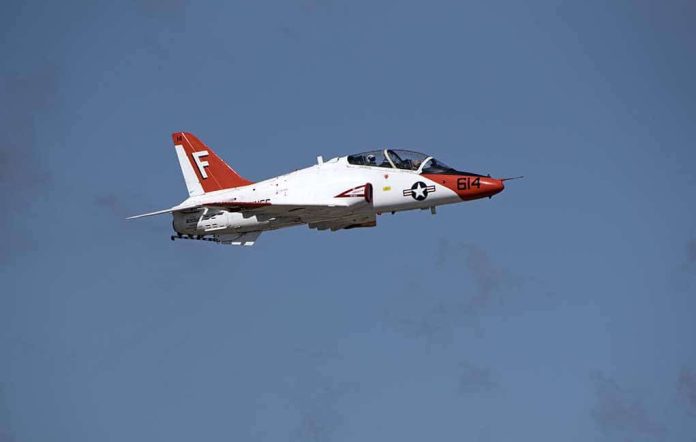 (RepublicanReport.org) – Our military is, without question, the most capable and best-equipped force of its kind on the planet. Servicemembers nearly always approach their work with the utmost professionalism, whether it's an active engagement or a training exercise. Despite this, however, accidents can and do happen. We saw an example of this near Fort Worth, Texas, over the weekend.
On Sunday, September 19, three homes in Lake Worth suffered damage after a crash involving a military aircraft. A Navy T-45C Goshawk plane crash-landed in the backyard of one of the homes, and debris from the collision caused structural damage in the other two homes.
The incident occurred while a military flight student was in the cockpit along with an instructor. The pair were reportedly carrying out a training exercise, having taken off from Corpus Christi International Airport.
Both pilots ejected from the plane before impact. The instructor's condition is stable, while the student has more severe injuries, though they're not life-threatening. Three people living in the affected residential properties received treatment for minor injuries at the scene.
BREAKING VIDEO 🚨 2 people were ejected from the military plane that crashed in a residential area in Lake Worth, Texas

Updates: https://t.co/LL9Z9HRhv8 pic.twitter.com/RjnBODw8f4

— Insider Paper (@TheInsiderPaper) September 19, 2021
This story had a reasonably happy ending, but things could easily have been much worse. As the Fort Worth Fire Department said in a statement, everyone involved was lucky that the aircraft went down in the house's backyard rather than hitting the actual structure.
Copyright 2021, RepublicanReport.org