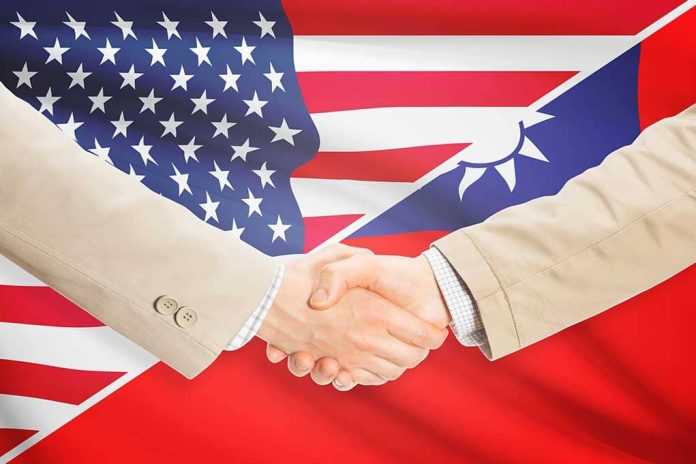 (RepublicanReport.org) – China's increasing military activity of late has heads of state worldwide concerned. Of particular worry is the possibility the Asian giant might invade the disputed island territory of Taiwan. This development would cause economic shockwaves around the globe due to Taiwan's importance as an exporter of semiconductors. Now, Republican senators are attempting to ensure that doesn't come to pass.
Last week, Ranking Member on the Senate Foreign Relations Committee Jim Risch (R-ID) headed up a group of GOP Senators introducing the Taiwan Deterrence Act. If passed, the legislation will set aside $2 billion a year until 2032 for investment in the Taiwanese military in the face of growing Chinese aggression. Another provision would make it easier for Taiwan to purchase arms from the US. Senators Mitt Romney (R-UT), Marco Rubio (R-FL), Bill Hagerty (R-TN), John Cornyn (R-TX), and Mike Crapo (R-ID) were the bill's co-sponsors.
Today, I led @MikeCrapo, @SenatorHagerty, @SenatorRomney, @JohnCornyn, & @SenRubioPress in introducing the Taiwan Deterrence Act. #Taiwan must have the ability to defend itself against #China's coercion, & I'm proud to offer a solution. https://t.co/Yerg5ilP2d

— Senate Foreign Relations Committee Ranking Member (@SenateForeign) November 4, 2021
Senator Crapo's statement about the bill stressed that it would not write Taiwan a "blank check." He claims the funding will only keep coming as long as Taiwan's commitment to productive defense initiatives continues.
Taiwan's military is currently putting its reserve forces through extra training, possibly preparing for a potential military engagement with China.
Copyright 2021, RepublicanReport.org