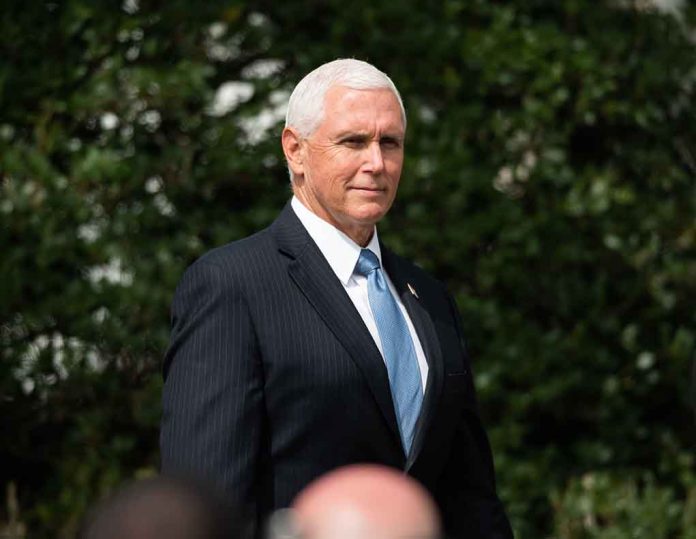 Mike Pence Hints at 2024 Plans
(RepublicanReport.org) – Since President Joe Biden was elected to the White House at the end of 2020, speculation about which Republican will take up the challenge of trying to replace him in 2024 has abounded. Initially, the GOP appeared almost entirely united behind former President Donald Trump. More recently, however, others have started coming into the picture, including former Vice President Mike Pence.
Will Mike Pence Run for the Republican Nomination in 2024?
During an appearance at a Georgetown University event on Wednesday, October 19, Pence was asked whether he would vote for Trump in a hypothetical 2024 presidential election. The former VP did not directly answer the question; instead, he told the crowd there was another candidate he would "prefer more." Analysts have broadly viewed this as an indication of his own intention to run for the nomination.
Pence subsequently insisted that his current focus was on stumping for Republican candidates in the upcoming midterms. He said he would give a more concrete indication of his future plans once those activities were finished.
Pence's position within the Republican Party is currently somewhat uncertain, particularly as it relates to his former boss. Pence angered Trump after the 2020 election when he rejected his claims about election interference and certified the reported results of the electoral college vote. However, the former vice president has not distanced himself from Trump in the same way as other high-profile Republicans, such as Senator Mitt Romney (R-UT) and Rep. Liz Cheney (R-WY).
Who's in the Mix for the Nomination?
Pence's hint at the Georgetown University rally has brought his name back into this conversation, but polls are still putting others ahead of him. A quarterly analysis by The Washington Post most recently put Donald Trump and Florida Governor Ron DeSantis (R) at the top of the pack; for the first time, the analysts gave DeSantis a slight edge over Trump.
DeSantis' popularity in conservative circles has grown steadily since he arrived in the Florida governor's mansion in 2019. He has consistently challenged liberal opponents on hot topics like vaccine mandates, masking requirements, and the instruction of children on LGBTQ+ topics in schools. More recently, he drew widespread acclaim for his handling of the Hurricane Ian disaster in his state; even President Biden praised him for it.
Another potential successful candidate is former South Carolina Governor Nikki Haley (R). The Post's most recent assessment of the field places her in seventh, but PredictIt, an online political prediction tool, puts her in third, ahead of Mike Pence. Haley currently appears to be the only female with a realistic chance of claiming the GOP's next presidential nomination, a factor that may play in her favor.
Who do you think the Republican Party will nominate to run for the White House in 2024?
Copyright 2022, RepublicanReport.org