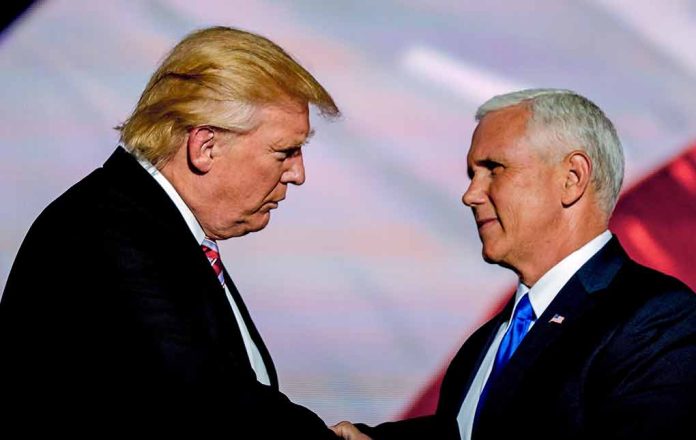 (RepublicanReport.org) – There are millions of Republicans taking stock of the presidential candidates vying for their vote in the upcoming primaries. While former President Donald Trump is at the top of the race, Florida Governor Ron DeSantis is giving him a run for his money. Other candidates, such as former Vice President Mike Pence and entrepreneur Vivek Ramaswamy, have garnered a bit of support, although it still pales in comparison to the frontrunners at this time.
Candidates who can rally enough donations and the right polling numbers will have the opportunity to share their agenda and platform with Americans at the upcoming RNC debate that Trump is threatening to boycott. When asked if he is prepared to argue with the former POTUS on national television, Pence recently told radio host Hugh Hewitt he's already had some experience in that arena.
Pence Tells Hewitt He Has Already Debated Trump Over 1,000 Times
While Trump's loud personality has steamrolled many interviewers during discussions, the 45th president's former second-in-command thinks he is ready for it. On the morning of Wednesday, July 5, Pence appeared on Hewitt's radio show to discuss his campaign. During the chat, the former VP highlighted that he has "debated Donald Trump a thousand time[s], just never with the cameras on." Adding the televised aspect would not be too much of a stretch for the presidential hopeful, noting he has "a little bit of experience with nationally-televised debating."
Pence went on to criticize any candidate who would qualify for the debate but not show up, such as Trump, highlighting that the discussions are not about talking to your competition but "talking to the American people." He also praised the work both he and Trump did during their time together in the White House while noting he and his former boss did not always agree.
Could Pence Handle Himself in a Debate With Trump?
Since he launched his campaign, no one has been off-limits for Trump's attacks, including his former running mate. Pence seemed unconcerned about being on the receiving end of personal attacks during the debate and even challenged the presidential candidate to appear by saying that he said he would "look forward to" getting the chance to talk politics with him on stage.
While Pence is currently polling with just 7% of the Republican vote, according to the latest Morning Consult survey, those numbers could quickly change if he is one of the few people to actually show up to the RNC debate.
Copyright 2023, RepublicanReport.org