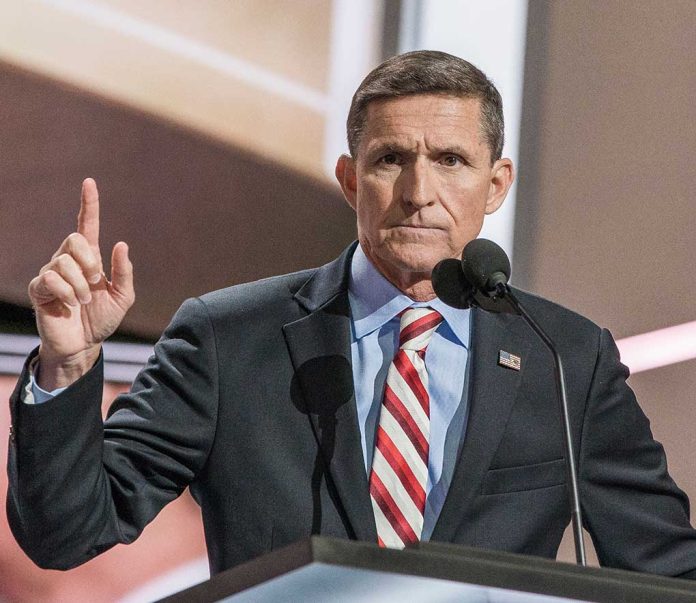 (RepublicanReport.org) – General Michael Flynn, a longtime ally of former President Donald Trump who served as the national security adviser in his administration, knows how to speak his mind without fear of judgment, particularly when it comes to contentious issues like election fraud. Since the scandal over his "unmasking," he has cemented his position as a prominent conservative voice with unwavering loyalty to Trump. Now, he's airing his opinion in another highly charged debate, and many people are upset about what he said.
On Saturday, November 13, Flynn advocated the establishment of "one religion" for the United States during a speech at an American Faith rally in San Antonio, Texas. However, he did not detail exactly what that might look like from a policy perspective.
Michael Flynn says of the US: "We have to have one religion" https://t.co/qqxvKrDlWM pic.twitter.com/mAKXvmlcGZ

— The Hill (@thehill) November 14, 2021
Critics wasted no time in piling on Flynn. Rep. Ilhan Omar (D-MN) accused him of "[hating] the Constitution" in a tweet. This accusation is an apparent reference to the First Amendment, which protects religious freedom. Retired Gen. Mark Hertling also slammed Flynn, saying his comments had embarrassed the Army.
These people hate the US Constitution. https://t.co/CnrfQ5vAcP

— Ilhan Omar (@IlhanMN) November 14, 2021
What do you think? Is Michael Flynn's position on this a good idea or something that doesn't reflect the intentions of the Constitution?
Copyright 2021, RepublicanReport.org