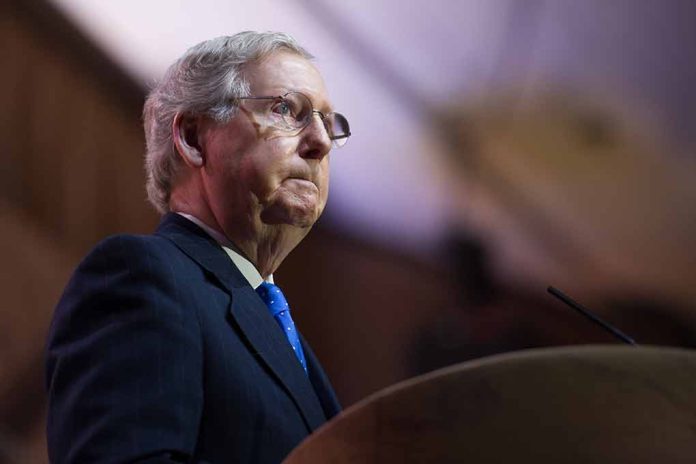 (RepublicanReport.org) – House Speaker Kevin McCarthy (R-CA) recently floated the idea of conducting an impeachment inquiry of President Joe Biden amid mounting allegations of financial misconduct by himself and family members. He previously remained somewhat neutral on the subject. Conversely, the Senate's top Republican, Minority Leader Mitch McConnell (KY), recently spoke out against the idea.
On August 8, The New York Times published an article discussing the normalization of formal censure and impeachment proceeding to settle partisan political scores. The report pointed to the recent denunciation of Rep. Adam Schiff (D-CA) and former President Donald Trump's two impeachment trials, conducted over fierce objections by GOP lawmakers.
Noting that several House Republicans have already introduced measures to impeach several high-ranking Biden administration officials, The NY Times quoted McConnell speaking out against those efforts.
McConnell reminded reporters that he warned fellow lawmakers in the past that it wouldn't be wise to "go down [that] path" because it created "incentives" for other Democrats to do the same thing to their Republican opponents. "Impeachment ought to be rare," he declared, adding that it wasn't "good for the country."
Nevertheless, lawmakers like Representatives Lauren Boebert (R-CO) and Marjorie Taylor Greene (R-GA) have bills pending in the House calling for Biden's impeachment. Republicans haven't limited their efforts to remove officials from office to Biden.
GOP House members have set their sights on administration officials like Attorney General Merrick Garland and Homeland Security Secretary Alejandro Mayorkas. Those efforts are largely considered symbolic since Democrats maintain a majority in the Senate, and successful impeachment requires a two-thirds majority in the chamber.
It also remains uncertain whether Republicans could get enough votes in the House. Only a simple majority is needed to adopt a resolution calling for impeachment in the lower chamber. However, with the general elections looming around the corner, members in Biden-friendly states might hesitate to support the measure due to concerns they might lose their reelection bid.
Meanwhile, former President Donald Trump continues to call on Republican lawmakers to take action against Biden and other administration officials, including Special Counsel Jack Smith. His call to action could ultimately determine the direction the GOP takes on impeachment.
Copyright 2023, RepublicanReport.org