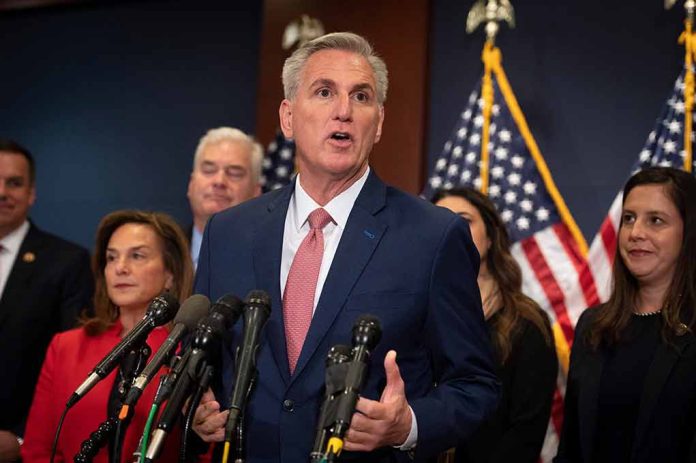 (RepublicanReport.org) – House Speaker Kevin McCarthy (R-CA) has been conspicuously dragging his feet on the fulfillment of the promises he entered into with Freedom Caucus members and other far-right Republican lawmakers to secure his place as head of that chamber. On September 12, he finally succumbed and gave an inch by announcing his decision to direct three committees to launch an impeachment probe against President Joe Biden. However, he was later threatened with a "vacate the chair vote." Here's what happened.
Rep. Matt Gaetz (R-FL), one of the last holdouts blocking McCarthy's ascension to speaker, delivered a stern warning to the chamber's head during a floor speech on September 12. He reminded McCarthy that he promised to allow a single representative to enter a motion to "vacate the chair," a procedural rule used to force a vote to oust a sitting House speaker.
In 2019, Democrats set a higher bar for removing a speaker. They required a majority of either the Democratic Caucus or House Republican Conference to force a vote. McCarthy tried to hold out for a requirement of five lawmakers to trigger a "vacate the chair" vote.
Gaetz stated that he decided to speak to "serve notice" on McCarthy that the speaker wasn't complying with the previous agreement that allowed him to rise to House speaker. Continuing, the lawmaker warned that "the path forward" demanded McCarthy either enter into "immediate [and] total compliance" or face a "motion to vacate the chair."
Turning his attention to the speaker's impeachment inquiry announcement, Gaetz called it an insignificant "baby step" that trailed in the wake of "weeks of pressure" from conservative lawmakers to "do more." He also pointed to several other broken promises.
For instance, Gaetz talked about the issuance of subpoenas to Hunter Biden and other family members. He also noted McCarthy's failure to provide proper access to January 6, 2021, surveillance tapes and matters involving proposed budget cuts and a promise to hold a vote on term limits.
Gaetz conceded that he probably didn't have the votes necessary to pass any of his goals. Nevertheless, that shortfall didn't provide McCarthy with an excuse for failing to stick to his agreement.
Copyright 2023, RepublicanReport.org