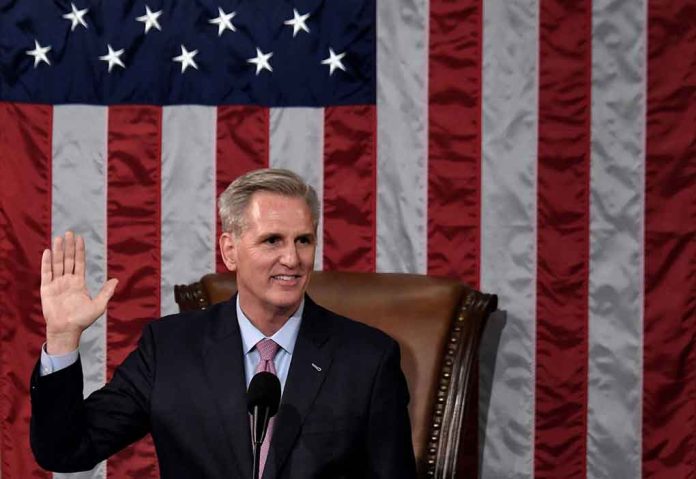 (RepublicanReport.org) – Whenever a new session of Congress begins, newly elected lawmakers need to be sworn in. Before that happens, however, there must be a House Speaker to lead them. This January, Republicans had to pick a leader to replace Nancy Pelosi (D-CA) after winning the majority in the Lower Chamber. After 15 votes, the GOP was finally able to rally behind Representative, and now House Speaker, Kevin McCarthy (R-CA).
Shortly after midnight on Saturday, January 7, Democratic Minority Leader Hakeem Jeffries (D-NY) handed McCarthy the chamber's gavel, signifying him as the new leader of the 118th Congress. This was the culmination of the California Republican slowly coaxing 20 different GOP lawmakers, who had been voting for other members that had little support for the position, to support him.
Upon security victory, though, McCarthy dove into a speech thanking his colleagues and rallying all of Congress behind him. He began by highlighting that he is the "son of a fireman and the grandchild of immigrants" and yet was able to rise to the top spot in the US House of Representatives.
He spoke to Jeffries, emphasizing how they will both agree and disagree on a wide variety of items in the coming months, and he promised the discussions "will be passionate" but "never be personal."
NEW SPEAKER: Kevin McCarthy delivers his first remarks after winning House Speaker for the 118th Congress with 216 votes#NextRevFNC @SteveHiltonx https://t.co/B7qRHkSEYy

— The Next Revolution (@NextRevFNC) January 7, 2023
McCarthy went on to remind listeners how American voters chose "a new direction" back in November and he would commit to helping create that vision. He hopes to use his leadership in Congress to strengthen the economy, cut government spending, bring down the price of gas and groceries, and build a future "where children come first." The newly-elected Speaker also said the first bill he hopes to pass is one taking away IRS funding so it cannot staff the agency with an additional 87,000 new hires.
Now, Americans get to watch and see if McCarthy and his party can make the difference voters elected them to make.
Copyright 2023, RepublicanReport.org