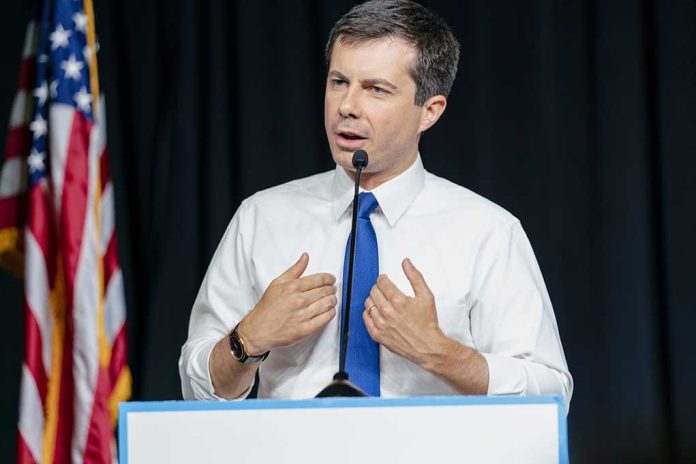 "Mayor Pete" Tried To Spin Inflation, But Looked Foolish Instead
(RepublicanReport.org) – Transportation Secretary Pete Buttigieg has long been touted as a rising star within the Democratic Party. The 40-year-old served as the mayor of South Bend, Indiana, before launching a failed bid for the Democratic presidential nomination in 2020. Now, the young liberal is facing criticism over his defense of President Joe Biden's economic policies.
On Sunday, October 16, Buttigieg appeared on CBS's "Face the Nation" program. At one point, host Margaret Brennan quizzed him on the president's claim that the US economy was "strong as hell" despite indications that trouble is on the horizon. The transportation secretary attempted to make a point about the difficulty of making accurate economic predictions ahead of time, but Brennan cut him off, calling his words "political spin."
Biden said "the economy is both 'strong as hell,' but also if there is a recession, it will be very slight. What exactly is the forecast?"

PETE BUTTIGIEG: "Forecasting is by its nature is something that's a little uncertain."

"That's political spin." pic.twitter.com/HI3OQhVnPv

— Brad Porcellato (@BradPorcellato) October 16, 2022
Earlier in the interview, Brennan quoted a statistic showing that 68% of registered voters believe the Biden Administration is not doing enough to work against inflation. Buttigieg responded by defending the administration's efforts to reduce cost pressures on American families, and criticized Republicans for voting against legislative efforts to reduce inflation. He used the example of prescription drug price reductions in the Inflation Reduction Act, claiming the GOP was seeking to introduce legislation to reverse the provision.
What do you think about the state of the American economy under Joe Biden?
Copyright 2022, RepublicanReport.org