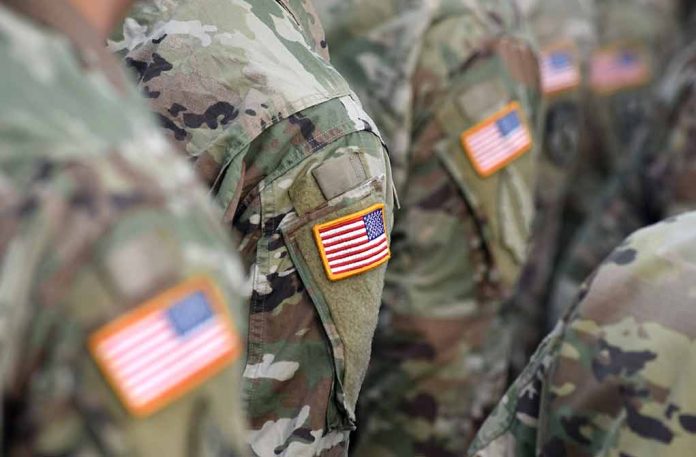 (RepublicanReport.org) – Massachusetts has been in a state of emergency for nearly a month over an overwhelming influx of migrants. With resources stretched to the limit and nowhere else to turn, Governor Maura Healey (D) has called in the National Guard to help. The liberal leader has been determined to welcome the new arrivals with open arms, no matter the cost, but emergency shelters are already at capacity.
Boston 25 News reports that as many as 250 National Guard members are currently helping to man Massachusetts' emergency shelters. Healey is using the service members as temporary personnel in the state's effort to provide migrants with adequate food, education, medical care, and transportation while they await work permits. The overflow of people has flooded homeless shelters, college dorms, and Joint Base Cape Cod.
Healey admitted in early August that the approach wasn't sustainable, and she's been begging the White House for additional funds to keep the state's effort afloat. Local officials have pointed to a lack of affordable housing as a major obstacle, and they've pressed the Biden Administration to stop dragging its feet in authorizing the migrants' work permits. The governor claims the asylum seekers, most of whom have escaped devastating conditions in Haiti, "desperately want to work" but the current process forces them to become dependent on the state instead. Unlike many other sanctuary states, Massachusetts isn't getting the bulk of its overflow from border cities, which have also suffered overwhelming thinning of resources due to Biden's failed policies.
Massachusetts Sen. Elizabeth Warren (D), along with 10 other members of Congress, recently sent a letter to US Citizenship and Immigration Services Director Ur M. Jaddou and Secretary of Homeland Security Alejandro Mayorkas, begging the officials to take action. It notes that economic, civil, and health-related crises continue to drive people from Cuba, Haiti, Nicaragua, and Venezuela to seek asylum in the United States. These people come looking for new opportunities, only to find themselves crippled by legislative red tape, which often leaves them unable to work for six months or longer.
The lawmakers asked that the White House find a way to speed up the process, so the migrants can become productive members of society instead of continuing to hemorrhage state and federal resources.
Copyright 2023, RepublicanReport.org