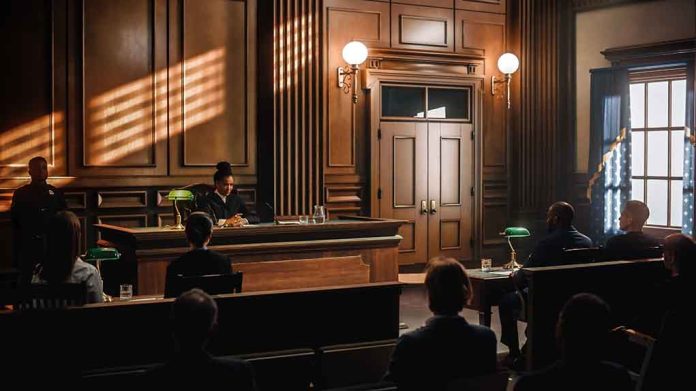 Decision MADE – Mass Shooting Suspect Pleads NOT GUILTY
(RepublicanReport.org) – Earlier this year, during a traditional July 4 parade in Highland Park, Illinois, a gunman opened fire on the crowd, taking seven lives and injuring dozens more. The man accused of the deadly incident is Robert E. Crimo III. On Wednesday, August 3, he pleaded not guilty to the 117 counts against him related to the incidents of that fateful day.
The Background to the Story
According to the case against Crimo, he scaled to the roof of a building overlooking the Independence Day festivities. Using a semiautomatic rifle, the accused opened fire on the crowd, unloading dozens of rounds. A manhunt ensued in the quiet Chicago suburb; it later emerged the alleged shooter dressed as a woman to attempt to conceal himself from the authorities. Allegedly, the suspect had considered launching another attack in Wisconsin, but decided against it. Police finally arrested Crimo after about eight hours of searching.
The defendant had a history of mental health issues and previously came into contact with police. Reports suggest he attempted suicide more than once, most recently in 2019, when police showed up at his house. Then, later in 2019, police arrived again after he allegedly threatened to kill his family members. According to Lake County Major Crime Task Force spokesman Christopher Covelli, who spoke about the incident at a news conference, authorities confiscated multiple weapons, including a sword, a dagger, and 16 knives. Following that incident, the Highland Park Police Department earmarked Crimo as an individual who could potentially pose a threat to the community.
Despite this, however, the accused subsequently passed a number of background checks, which helped him obtain a firearm.
The Court Proceedings
Of the 117 counts to which Robert Crimo III pleaded not guilty, 21 are of first-degree murder. Even though he killed seven people, prosecutors are pushing three counts per victim. According to ABC News, Eric Reinhart, the state attorney for Lake County, said the alleged assailant's conviction on any two counts of first-degree murder will be sufficient to see him spend life in prison.
Crimo's parents both accompanied him to court on Wednesday. According to the Chicago Sun Times, their attorney said they "deeply regret" what their son is alleged to have done, and their attorney noted they came to "express their sorrows" over what happened.
This case is just one among many that have fueled debate about gun violence, gun control, and broader societal issues across the United States. Do you think it's time our policymakers took greater steps toward limiting the use of guns in our communities? Or should they focus on the other causes behind stories like these while leaving Second Amendment rights intact?
Copyright 2022, RepublicanReport.org