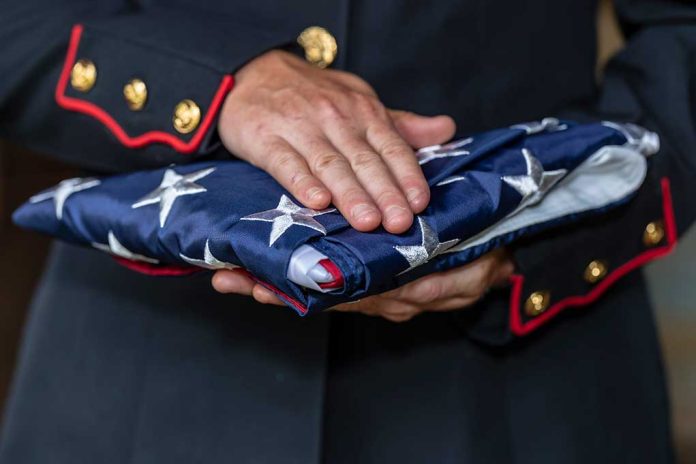 (RepublicanReport.org) – Military veterans put their lives on the line for the good of the nation during their careers, and for many, after they retire from active service as well. A recent story out of California illustrates the heroic deeds of some of our former military men and women.
On Thursday, December 8, US Marine Corps veteran Robert Sundin attempted to help a friend escape what looked like an armed robbery and tragically lost his life in the process. According to the Daily Mail, Sundin (70) was sitting in his vehicle near Scotty's restaurant in Vallejo when he noticed an individual concealing his appearance with a mask and hoodie. The suspicious person was approaching Teresa Brasher, a server at the restaurant. Brasher said the man was pointing at her, though she wasn't sure whether he was using a gun or just his finger.
Upon noticing what was happening, Sundin approached the man. Brasher said she only heard a gunshot during the interaction, and the would-be assailant then left the scene. Sundin lost his life during the attack.
"He's always going to be my guardian angel for life." @USMC veteran Robert Sundin died a hero, says Teresa Brasher, longtime server at Scotty's Restaurant. Sundin, her regular customer, was shot dead while protecting her from apparent robber. @VallejoPd case. 4,5,6,7 p.m. @KTVU pic.twitter.com/0T16yvNvKe

— Henry K. Lee (@henrykleeKTVU) December 12, 2022
Scotty's restaurant set up a GoFundMe page to raise funds for Sundin's family in the wake of the incident. The fund had reached nearly $22,000 at the time of writing, a figure well in excess of the $10,000 goal.
Copyright 2022, RepublicanReport.org