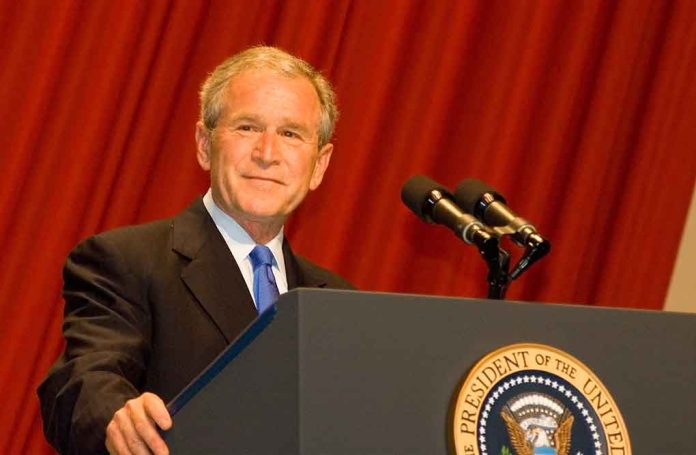 Feds Uncover HORRIFYING Plot Against Bush – Details Pouring In
(RepublicanReport.org) – Former President George W. Bush has become a highly unpopular figure in many political circles. Liberals and anti-war advocates dislike him because of his initiation of the Iraq war, which most analysts have come to view as pointless. Pro-Trump Republicans have turned against him because of the negative remarks he's made about the 45th president. Therefore, it typically isn't shocking news when someone hears that someone else dislikes "W." What is jarring, however, is a new story that has revealed Bush was the target of a recent assassination plot by a man with connections to the Islamic State (ISIS).
According to a report from the New York Post, a 52-year-old native of Iraq living in Ohio came up with a plan, involving four potential assassins with ties to the Islamic State, to kill George W. Bush. The authorities arrested Shihab Ahmed Shihab Shihab earlier this year, and court documents related to the case were unsealed this week.
An Iraqi man living in Ohio plotted to kill former President George W. Bush by using four ISIS-linked assassins smuggled across the US border with Mexico, officials said Tuesday. https://t.co/18Mi4tuPHk

— Mark Lungariello (@MarkLungariello) May 24, 2022
Shihab reportedly wanted to have Bush killed because he blamed the former president for the Iraq war. The Iraqi reportedly fought in the resistance against US forces in his country during the first three years of the conflict. He claims to have killed many US operatives and spent time in US custody overseas.
The Justice Department reported that if convicted, Shihab could spend up to 20 years in prison for attempting to murder Bush and up to 10 years for each count of illegally bringing others into the US.
Copyright 2022, RepublicanReport.org