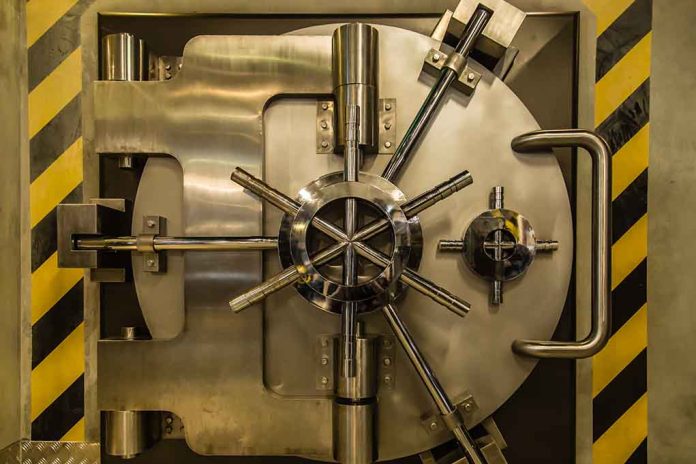 (RepublicanReport.org) – On March 6, a Salt Lake City man walked into a bank and demanded the teller give him a single dollar. The teller complied and handed Santacroce a dollar bill, asking him to leave. However, the suspect refused to leave and instead told the teller to call the police. And promptly awaited their arrival.
A Utah man was arrested Monday after police say he robbed a bank of just $1, then waited in the lobby for officers to arrive because he wanted to be sent to federal prison. pic.twitter.com/TbZJx290Cy

— Daily Loud (@DailyLoud) March 7, 2023
According to KSL.com, a local news agency, the robber was 65-year-old Donald Matthew Santacroce. KSL reportedly obtained the arrest affidavit, which details that the man walked into a Wells Fargo bank and handed the teller a piece of paper that read, "Please pardon me for doing this but this is a robbery. Please give me $1. Thank you."
Despite the teller demanding he leave, Santacroce took a seat in the lobby, where he waited for the authorities to show up. While waiting, he allegedly told the people in the building they were "lucky he didn't have a gun," explaining the police were taking too long to arrive.
When officers arrived, they took Santacroce into custody without incident. Another local outlet, ABC4, reported the 65-year-old handed over the dollar he stole from the bank to police and admitted to the crime. According to the police affidavit, Santacroce explained that he robbed the bank to "get arrested and go to federal prison."
This isn't Santacroce's first encounter with the law. Just a week before the bank robbery, the Utah Highway Patrol arrested him for driving under the influence (DUI) and careless driving. His license was suspended at the time.
Santacroce now faces a charge of robbery, a second-degree felony. He has also stated that if he gets out of jail, he plans to rob more banks and ask for a higher amount of money in an attempt to be sent to federal prison.
The 65-year-old is far from the first person to commit similar crimes. There have been several incidents where people have robbed banks in an attempt to go to federal prison for housing and medical care. It's not clear why Santacroce desires to be sent to federal prison or what led him to this decision.
Copyright 2023, RepublicanReport.org