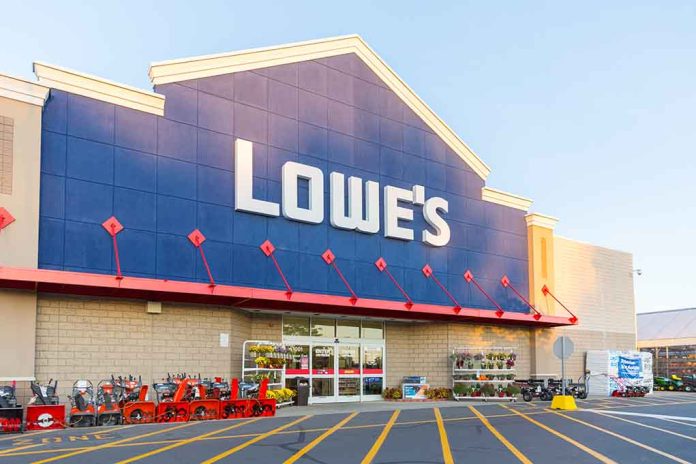 (RepublicanReport.org) – Retailers have faced an increased amount of theft over the past few years. As a result, many of them are spending millions of dollars in an effort to boost security and safeguard against thieves. One of the nation's largest home improvement stores, Lowe's, has come up with a solution that could put an end to people stealing from them altogether.
Lowe's Successfully Tests Way To Stop Retail Theft Without Locking Down Products https://t.co/0yPlePlGQM pic.twitter.com/EKFTk5Ykl9

— Daily Wire News (@DailyWireNews) January 30, 2023
According to Lowe's Innovation Labs, organized crime has been the main motivator behind retail theft. As a result, the home improvement chain and other retailers have largely relied on locking up valuable equipment, which the company says comes at the cost of customers' in-store experience.
That's why the home improvement store has introduced what it calls "Project Unlock." Lowe's claims that through the use of cheap Radio Frequency Identity (RFID) chips, scanners, and the unconventional use of blockchains, the store is taking on theft directly and in a way that doesn't impact the experience of paying customers.
Power tools are a prime target for thieves to sell to secondary markets and unsuspecting people. For Project Unlock to work, power tool manufacturers must embed each product with a unique RFID chip. The price tag is preloaded with the item's serial number, also found in the barcode on the box, and the manufacturer sets the tool to inoperable.
Until a person legitimately purchases the product, it will not work — the retailer has to activate it. The idea behind making tools inoperable until someone buys and pays for them is to render them useless to thieves. Bad actors will have a harder time selling something that doesn't work.
Additionally, through blockchains, retailers can keep track of what products sell. Even the public can access these records, which could help them determine if the tool they're buying from someone has been stolen or legitimately purchased. The blockchains are anonymous and don't store any personal information.
The new technology from Lowe's Innovation Labs could also become popular among other retailers looking to crack down on theft. Perhaps this is the future of shopping: no more locked cases and having to call an employee over to help. Just grab the product, check out at the register, and enjoy it.
Copyright 2023, RepublicanReport.org