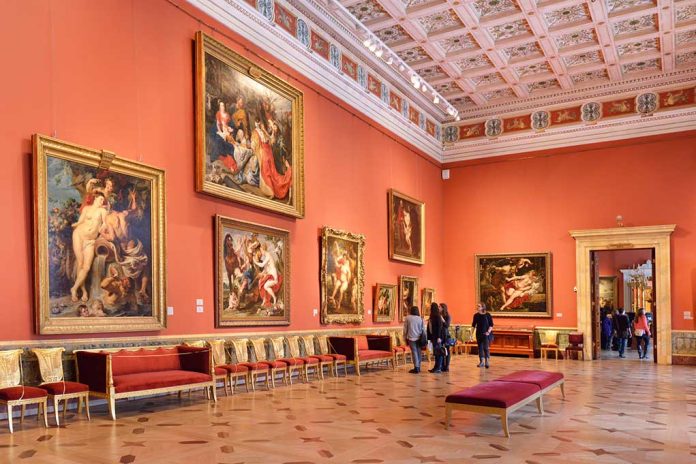 (RepublicanReport.org) – Jackson Pollock, who was born in 1912 in Wyoming, spent his life creating works of art. The artist was a leader in Abstract Expressionism and was widely known throughout his life for his "drip" painting technique. His paintings include Lucifer, Convergence, Reflection of the Big Dipper, and White Light. The Wayne Arthur Gallery prices Jackson Pollock's paintings between $15,000 and over $60 million, depending on the works.
On March 22, The Guardian reported that the Bulgarian police recently busted an international art smuggling ring and found a previously unknown painting by none other than American painter Jackson Pollock. The Bulgarian National Radio (BNR) stated the creation could be worth up to 50 million euros, which translates into nearly $54 million at current exchange rates. According to the source, the police arrested several people in the sting.
Art Smuggling Bust Uncovers Previously Unknown Jackson Pollock Painting Worth $54 Million https://t.co/CllpvxeD51

— Daily Caller (@DailyCaller) March 23, 2023
The Art Newspaper reported that the raid happened through a joint effort between Greek and Bulgarian organized crime units who were coordinating through Europol. Apparently, multiple seizures took place at various locations in Europe. According to Novinite, one person from Bulgaria and three from Greece were detained, and five paintings, in addition to the Jackson Pollock, were recovered.
Unfortunately, the report didn't detail the other artists but said they were well-known. BNR also didn't describe the Pollock painting, but another outlet revealed there was a personalized note scrawled on the back of the canvas. A Bulgarian news agency said Pollock dedicated the work to actress Lauren Bacall for her 25th birthday — September 16, 1949. According to CBS News, the painting was found in an apartment and could have been part of a private collection kept by the former dictator of Romania, Nicolae Ceaușescu, as his signature was also on the back.
If this painting was never cataloged and no one knew it existed, how many other works of art by famous artists could be out there in the world?
Copyright 2023, RepublicanReport.org