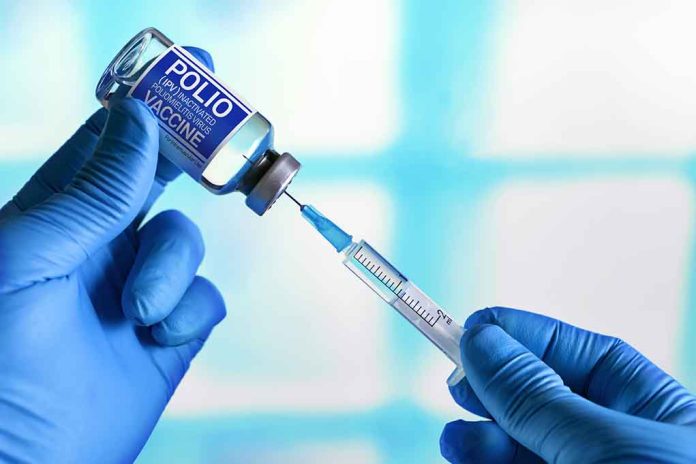 Polio COMEBACK? – Health Officials Make Alarming Findings
(RepublicanReport.org) – Polio is a dangerous virus that can lead to debilitating physical symptoms in patients, sometimes causing permanent disability or even death. Vaccination efforts largely put an end to polio in the developed world in the 1970s, though the condition persists in some areas of Africa and Asia. Now, though, it appears the dreaded disease is rearing its head in the West once again — and health officials are trying to get out ahead of it.
Officials in London, England, have approved the administration of a booster dose of the polio vaccine to children aged from 1-9 following the discovery of the virus in sewage water in several regions within the city. While there have not yet been any confirmed human cases, the authorities are concerned the community transmission of the disease may have begun. They will step up monitoring of sewage water across the nation going forward.
The UKHSA has identified 116 isolates of type 2 polio virus (oral polio vaccine virus) in sewage samples from eight London Boroughs. The genetic analysis indicates that they're likely related to the virus imported in Feb, suggesting community transmission has been established 🧵

— Dr. Deepti Gurdasani (@dgurdasani1) August 10, 2022
The virus has also reportedly reappeared in the United States. The CDC recently revealed that a 20-year-old man in Rockland County, New York, tested positive for polio. The individual had not been vaccinated against the condition. While he's the only known case at this time, recent reports say experts believe the disease could already be spreading through the community, as it's often asymptomatic.
Do you think we need to be concerned about a fresh polio outbreak in the US?
Copyright 2022, RepublicanReport.org