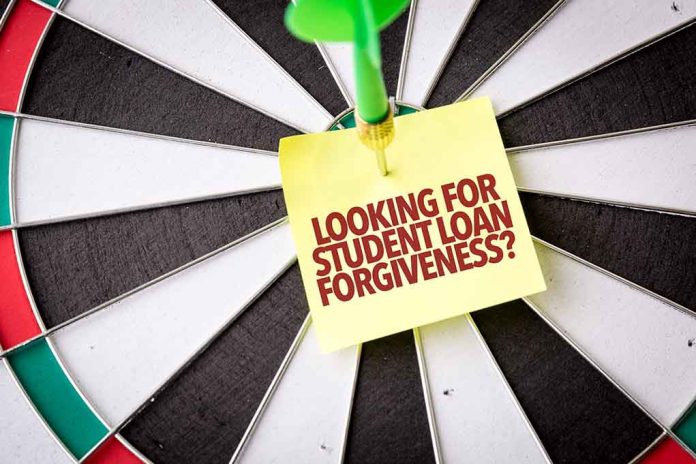 First Lawsuit Against Biden Student Loan Forgiveness Plan Gets Shot Down
(RepublicanReport.org) – Earlier this year, President Joe Biden announced a plan to forgive a portion of federal student debt for millions of American borrowers. The plan will see Pell grant recipients who meet the criteria receive up to $20,000 in relief, while those who were not in receipt of the grant are eligible for up to $10,000. The plan has proven controversial, though, and it started facing legal challenges this week. However, one of the challenges has already been shot down.
Biden faces his FIRST lawsuit over his "student loan forgiveness" program. Pacific Legal Foundation filed in Federal Court today in Indiana. They say it is "flagrantly illegal," & will push it to the Supreme Court. 👏🏻👏🏻👏🏻

— 🇺🇸ProudArmyBrat (@leslibless) September 27, 2022
On Tuesday, September 27, a group called the Pacific Legal Foundation filed the action in the US District Court for the Southern District of Indiana. The lawsuit named as defendants the Department of Education and Education Secretary Miguel Cardona.
Attorney Frank Garrison, who works for the organization behind the suit, was the official plaintiff. As a Pell grant recipient, he could claim $20,000 in debt relief under the plan. However, he contended the scheme will still disadvantage him overall due to the state income taxes he will incur because of it. The lawsuit argued that President Joe Biden does not have the authority to unilaterally forgive student debts.
A judge denied the lawsuit on September 29. On Wednesday, The Department of Justice clarified that borrowers will have the option to opt out of the automatic relief if they so choose, the Business Insider reports. As a result, the judge ruled that because Garrison would have the option not to accept the relief, his lawsuit has no legal standing.
The plan is also facing a challenge from six red states, whose attorneys general argue that Biden is overstepping his authority. According to a report from CBS8, Arkansas Attorney General Leslie Rutledge said it's "unfair" to make "hard-working Americans" shoulder the burden of other people's debt. It's unclear whether or not this lawsuit will stand.
The Department of Education also adjusted its information on who is eligible for the relief on Thursday, saying that people whose loans are handled by private entities will not qualify.
Copyright 2022, RepublicanReport.org