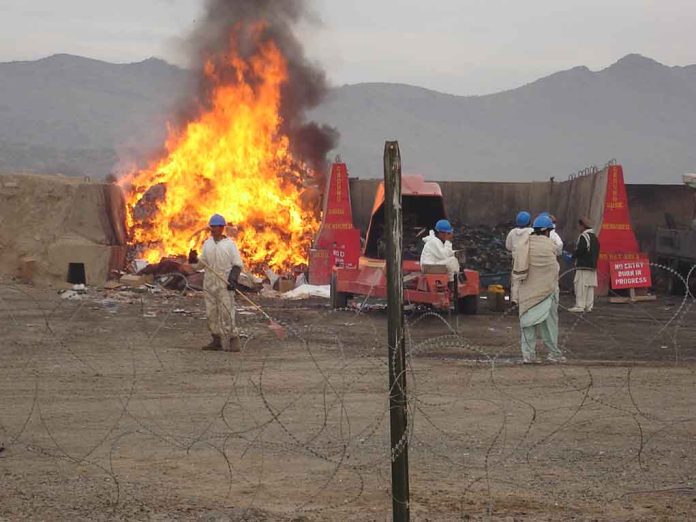 (RepublicanReport.org) – US military operatives in foreign war zones often used burn pits as a means of disposing of waste material. Personnel would have to burn a variety of toxic substances, including medical waste, rubber and plastics, various types of chemicals, jet fuel and paint. Exposure to the fumes from these pits reportedly caused health issues in a large number of military operatives, and lawmakers are now working to get justice for these individuals.
On Wednesday, March 16, experts gave testimony on burn pits before the Senate Armed Services Committee. This development came alongside Senator Kirsten Gillibrand's (D-NY) proposal seeking to provide care funding for burn pit victims through the Department of Veterans Affairs. The bill would focus on service members who have developed diseases like cancer, asthma, emphysema, and chronic obstructive pulmonary disease (COPD). Unlike other legislative efforts, Gillibrand's bill would not require applicants for benefits to undergo medical examinations to prove burn pit exposure as the reason for their illness.
Happening now: @SASCDems @SASCGOP hearing on burn pit illnesses. Has been focused in the Vet Affairs committees so far, but @SenGillibrand @SenThomTillis bringing it to the military side of Senate work today. Live here: https://t.co/TJ5Xtfnbqj

— Leo Shane III (@LeoShane) March 16, 2022
A growing number of elected leaders and other activists are seeking to bring burn pit issues to light and help victims rebuild their lives. For instance, the Health Care for Burn Pit Veterans Act, co-sponsored by Sen. Thom Tillis (R-NC), was approved by the Senate back in February. This measure has strong bipartisan support, although some lawmakers like Gillibrand are trying to find ways to broaden the effort.
Do you think one of these bills might bring about positive outcomes for those affected?
Copyright 2022, RepublicanReport.org