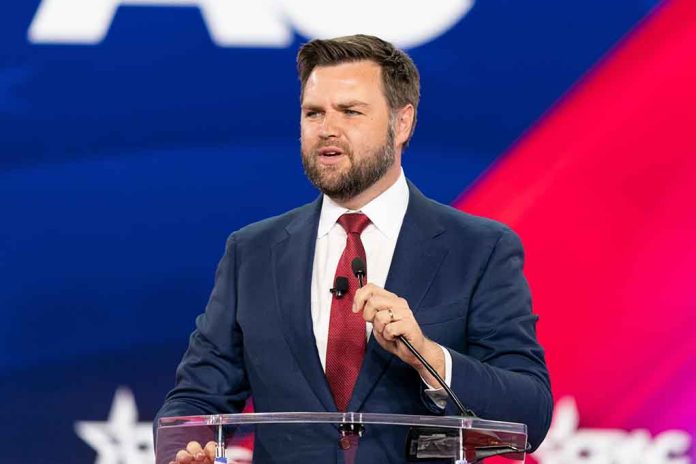 (RepublicanReport.org) – On February 15, four senators wrote a letter to the US Environmental Protection Agency (EPA) Administrator Michael Regan concerning the train derailment that happened 12 days prior in East Palestine, Ohio. Senators Sherrod Brown (D-OH), John Fetterman (D-PA), JD Vance (R-OH), and Robert Casey Jr. (D-PA) asked a litany of questions as to what the EPA planned to do about the environmental fallout and requested information about its plans to monitor the water and air for harmful chemicals. Three days later, two of those lawmakers reached out again.
On February 18, Vance and Brown penned another missive zeroing in on information concerning dioxins monitoring. Dioxins are chemical compounds that are highly toxic and can cause a host of health problems affecting reproduction, development, and immunity. The pollutants may even cause cancer, according to the World Health Organization. The legislators wanted to know what the EPA and the Ohio Environmental Protection Agency (OEPA) plan to do to test for the compounds. They, too, asked a lot of questions of the agencies.
Ohio senators raise alarm on cancer-causing chemical potentially spreading in East Palestine https://t.co/l8FpESAtdL

— Fox News (@FoxNews) February 20, 2023
Vance and Brown said it didn't look like the EPA, OEPA, or train company was looking to see if the combustion of vinyl chloride had created the dangerous dioxins. The senators asked the agencies to tell them if they had been testing, if they found any dioxins, and how they would communicate any findings to officials and the community. The legislators called for transparency and requested a response by February 24.
ABC4 WTAE reported that Regan addressed the issue of dioxins on February 21 during a news conference. He reportedly said he wasn't sure if the EPA was testing for the compounds yet, but assured the team was discussing it. Hazardous materials expert Sil Caggiano said the testing must happen "fairly quickly" because spring is coming, and it's almost time to start growing food. He said plants will "take this stuff up" if it's around.
Copyright 2023, RepublicanReport.org